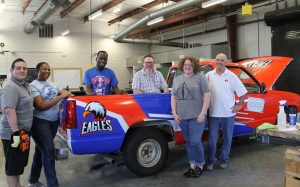 When Mitchell County High School Career, Technical and Agricultural Education Teachers Beau Sherman, Christopher Graham and Erica Thomas wanted to learn how to design, print and install a vehicle graphic so they could expand the school's graphic design program curriculum, they contacted Ricoh USA Solution Engineers Efrain Ramos and Larry Shaw.
The teachers decided to use a 1989 Chevrolet truck used by the school's maintenance department for the project. Before the truck could be wrapped, Sherman sanded the truck body with several types of sandpaper before wet sanding it. Then he applied liner paint to the truck's bed liner. Next, Sherman removed the truck's bumpers and prepped and painted the truck's bumpers and grill.
In addition to serving as project instructors, Ramos and Shaw designed the vehicle wrap. The design was laid out onto photos of the truck at 1:20 scale and featured the school's eagle mascot and colors. It was designed in vector format in Adobe Illustrator so it could be scaled up to 100 percent in the raster image processor with no loss of quality.
Ramos and Shaw chose Mactac IMAGin® B-free® GRUV™ Vehicle Wrap Film (GV929BFD) and Mactac Permacolor® RAYZor™ Cast Gloss Overlaminating Film (LF3648G) for the job. Permacolor RAYZor films are ultra-thin, cast overlaminates that offer long-term fade resistance and protection. RAYZor films, when combined with IMAGin B-free media, offer fast, easy, wrinkle-free installation and a durable, long-lasting, ultra-smooth look.
"IMAGin B-free GRUV Vehicle Wrap Films are the go-to-choice for many vehicle wrap installers because they are designed for easy application over complex curves like rivets, corrugations and other irregular surfaces," said Mactac District Sales Representative Cathryn Medlin, who visited the team as they worked on the truck. "When paired with Permacolor RAYZor overlaminating films, B-free GRUV Vehicle Wrap Films can beautify and protect wrapped vehicles for years."
The team installed the graphics using heat to work the film through the complex curves and then reset the memory of the film to keep it in place. The team used tools by YelloTools and Mactac, and the graphic's text and logo elements were printed and cut to shape using the school's Mimaki CG-FXII cutting plotter. Additional design elements were installed on top of the initial color-change wrap so the graphics could be registered separately. Because the graphics were installed separately, individual pieces can be removed if they need to be repaired or replaced without having to remove the entire wrap.

IMAGin B-free GRUV Vehicle Wrap Film is a 2-mil, gloss white, soft cast PVC film designed for inkjet printing. It is coated on one side with a repositionable, permanent, opaque, acrylic pressure-sensitive adhesive that features air egress technology for easy installation and removal. It is supplied with a 98# polycoated release liner.
Permacolor RAYZor Cast Gloss Overlaminating Film is a 1.5-mil clear gloss, highly conformable cast PVC film. It is coated on one side with a clear, permanent, acrylic pressure-sensitive adhesive and supplied with a smooth 60# glassine release liner.