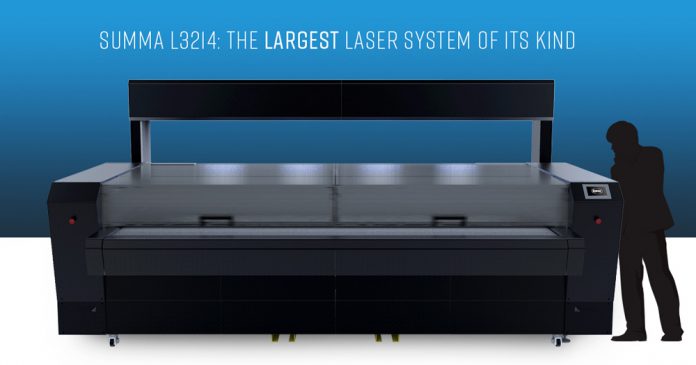 Global Imaging, a leading distributor of grand format digital printing equipment, is pleased to announce their relationship with Summa, to resell the Summa L3214 laser cutting machine that was recently announced at Fespa 2019.
Textile printing has been growing in the United States for almost a decade and has become the first choice for producing exhibit, tradeshow, and P-O-P displays. The need for a dedicated device that finishes textiles with a sealed edge has become part of the demand of the textile market. Until now, textile finishing has been done with additional cutting machinery or simple manual labor, using scissors or a hot knife. Neither of these solutions are clean, fast, cost-effective, or scalable.
Summa has more than twenty years' experience in textile finishing and a proven track record of cutting some of the most difficult materials that can be thrown at them, such as four-way stretch Spandex. As they moved into grand format, it was a natural fit for Global's textile product portfolio.
Greg Lamb, CEO of Global Imaging, says "When we curate new products for our portfolio, we consider how the products will affect the top-line revenue or bottom-line profits for our customer's businesses. We felt that because of the cleanliness, the speed, and the dedication to fabric, this product could dramatically lower the cost of textile finishing for our customers."
The Summa L3214 cutter will be available for demonstration at Global Imaging's Workflow Studio in Louisville, Colorado in the fall of 2019.
About Global Imaging
Global Imaging has been a leading integrator of wide and grand format printing systems and supplies since 1995. Through their careful curation of industry-leading products and services, their aim is to help your PSP grow profitably. Their comprehensive portfolio of brands provides a complete array of products, services, and the technical expertise needed for strategic business solutions and profitability in the wide and grand format printing industry. These brands include Global Garage, Parts Depot, Global Imaging Finance, and PrinterEvolution. Global's 6,500-square-foot Workflow Studio is the only demonstration area in the country that emulates an entire grand format production facility with the most current and cutting-edge products available.
For more information, visit www.globablimaginginc.com.
—Press Release