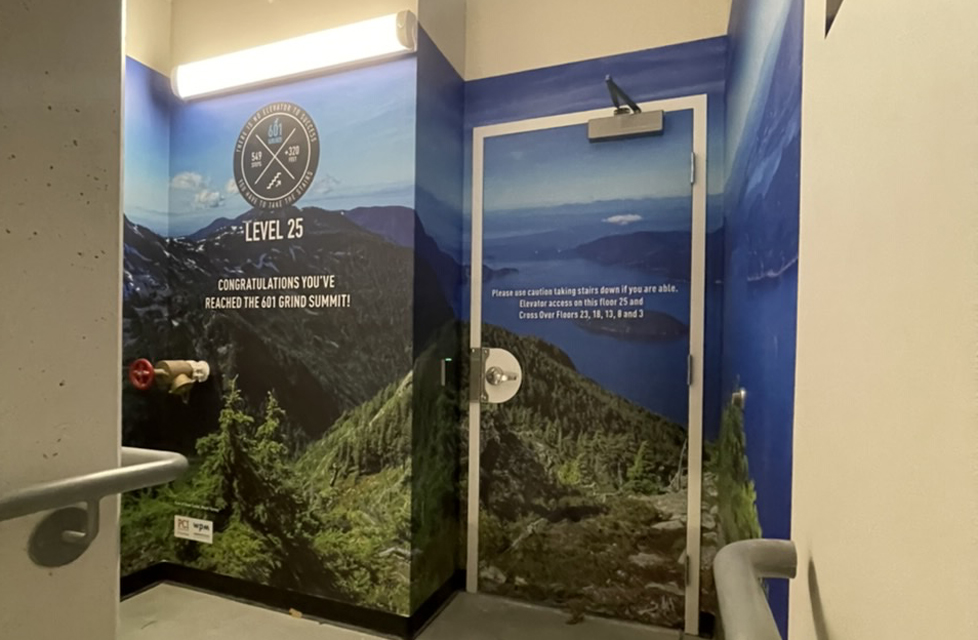 Canadian full-service, large format printing business Premier Graphics recently used Drytac Polar Premium Air self-adhesive vinyl combined with Interlam Pro Emerytex laminate to produce a series of colorful wall graphics to help transform the look of stairwells inside a high-rise commercial tower.
The building in question, 601 West Hastings, reaches up 26 stories into the British Columbia sky. Premier Graphics was handed the task of bringing a fresh feel to the otherwise-dull stairwells that people use to travel up and down the tower.
Each floor of the stairwell was to feature a printed image of a different scene from the local outdoor area, along with a famous, inspirational quote, adding a completely different feel to the previously grey and uninspiring walls.
The first major challenge Premier Graphics faced was that the surfaces were a mixture of drywall and concrete, while the sheer size of the project, which covered an area of more than 1,600sq ft, meant the company had to select a reliable and high-quality material. In addition, the materials had to comply with strict Canadian Fire Ratings.
Premier Graphics opted for Drytac Polar Premium Air self-adhesive vinyl combined with Interlam Pro Emerytex laminate, purchased through Drytac dealer ND Graphics. The vinyl has a unique permanent adhesive with bubble-free application technology, making the wall graphics extremely easy to install.
Premier Graphics printed all the images on its HP R1000 Plus Latex printer, resulting in a stunning series of graphics that now adorn the walls of stairwells up and down the tower. The graphics were installed in late summer of 2022.
"The client absolutely loved it," said Premier Graphics General Manager Taylor Sellinger. "Not only did the project meet all technical requirements, but also both the client and the tenants of the building loved that the graphics beautified a typically dark and dreary part of the building.
"We have been working extensively with Drytac products since 2019. We appreciate the printing quality and consistency, while we also love the variety of adhesives that allow us to work on virtually any surface."
—Press Release