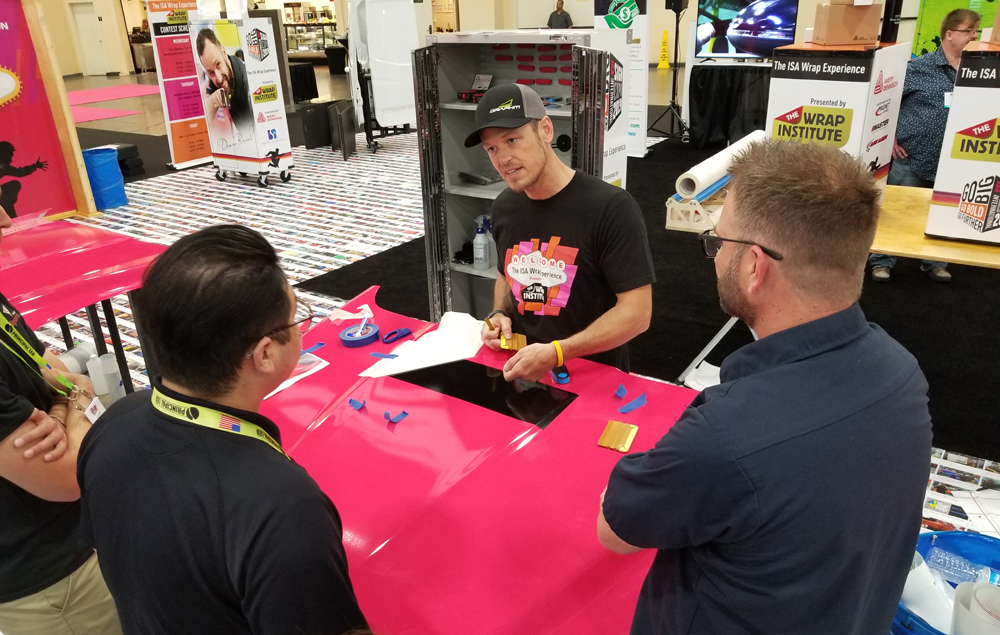 David Patchel from JT's Auto Glass & Tint in Boise, Idaho, got an offer he couldn't refuse: Come to ISA International Sign Expo to learn more about vehicle wraps. His boss wanted to take her whole staff to learn more about this rapidly growing field. It made sense; the automotive window tint business provided a strong client base and the staff had some element of the skills needed for wraps.
Vehicle wrap is an art form and there are two ways to learn it: by practicing and by watching those who are extremely skilled. "It's just mind blowing watching these guys work and seeing how flawless their technique is," David said. "It's really intriguing."
ISA International Sign Expo 2020—being held in Orlando, Florida, April 2-4 with a pre-conference workshop on April 1—will feature even more opportunities to watch "mind blowing" wrap professionals. The ISA Wrap Experience™, powered by ISA and The Wrap Institute, will encompass 10,000 square feet of space on the tradeshow floor.
The Wrap Institute Booth will feature the "Never Stop Learning" Education Competition and hands-on demonstrations and contests. A Wrap N' Learn stage will include expert speakers and demonstrations where attendees can learn from world-class wrap professionals. Of course, they'll also have plenty of chances to explore the latest products in wrap.
The ISA Wrap Experience expands on last year's event—one David already found pretty full. "There's so much information on the floor, in the classrooms and the networking opportunities," he said. "It can help you grow your business nationwide."
As business grows—and there is no doubt that wraps are growing—it becomes important to improve the skills and professionalism of those in the field as well as educate communities on this important opportunity for the local economy.
According to research from fleet management company Wheels, Inc., 75 percent of people in a survey developed a first impression about a company and its products from vehicle advertising. Some 91 percent of people noticed ads mounted on the sides of trucks and could recall the ad days later. Nearly one in three would make buying decisions based on the impression of the vehicle wrap.
We see similar economic impacts from on-premise signs. We've successfully used this argument in helping communities understand the roles that on-premise signs play. Strong signs lead to strong businesses which in turn pay taxes and provide good jobs. It's likely that vehicle wraps can make the same argument—and perhaps even more so. Businesses can target an entire marketing area as their vehicles travel their service routes, and signs convey their most powerful messages on the site of the business.
Both play well together, of course. Wraps can help improve brand awareness—and that 91 percent recall days later is impressive. On-premise signs also build awareness, set an impression, and mark the business location. Together, they're a powerful combination.
ISA is working to expand knowledge in this area and to gather information and statistics about the return on investment for wraps.
I hope you'll join me at ISA International Sign Expo 2020, where we can watch in awe as these artists showcase their talents. You can take those tips and techniques—and products—back home and start growing your business in this area.
Then I hope you'll take a few minutes to tell me about how your customers have used wraps to build their businesses, improve their marketing, and make a difference in their community. Share those stories with me at [email protected].
—David Hickey
David Hickey is Vice President of Government Affairs at the International Sign Association.