The children's sections of two libraries in Queensland, Australia have received bright, bold makeovers from icatchers, using Drytac media products.
A specialist in signage and fit-outs for exhibitions and tradeshows, showrooms and offices, shops, and events, icatchers has been servicing customers from its Brisbane head office and production facility and Melbourne sales office for sixteen years. It counts the governments of Queensland and Victoria, Queensland University of Technology, Aldi, Boeing, LG, BP, Xbox, and Nintendo among its well-known clients.
Its customer base also includes Brisbane City Council's libraries department, for whom icatchers updates children's library areas every five years. The project comprises everything from design to manufacture to installation, including furniture, power and lighting, interactive games and computers, play equipment, flooring, wall graphics, and signage.
"Usually these projects involve a six- to eight-week turnaround from concept to completion," explains Kyle Lewis, Visual Communications Manager at icatchers. "There are strict health and safety guidelines as the spaces are used by children. We also have to use products that meet specific requirements to minimize damage and that can be replaced easily if damaged—it's amazing how much damage these little humans make!"
Its most recent project at Holland Park Library involved wall graphics, which presented icatchers with additional challenges. Lewis explains, "For the wall graphics, we needed something that would be easy to use as we needed to wrap around columns and window openings, and found Drytac ReTac 150 Smooth was perfect. It's a quality product with great printing results."
Drytac ReTac Smooth 150 polymeric PVC film is a 6-mil printable self-adhesive vinyl designed for wall graphics applications. Installation on a range of surfaces is easy, thanks to Drytac's ReTac ultra-removable adhesive technology, which maintains strength over the duration of the project but ensures the film can be removed cleanly at the end of its life.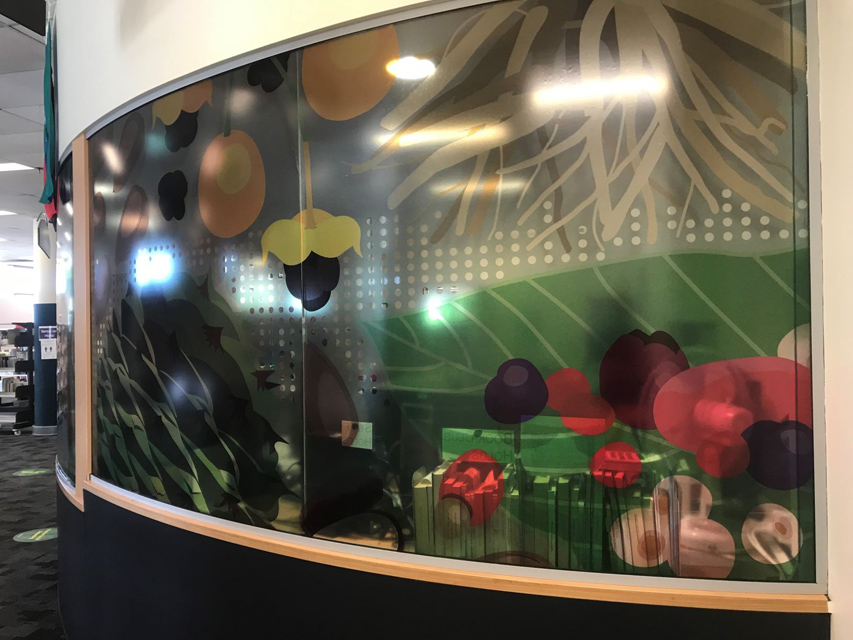 This year, icatchers completed a similar project at Beenleigh Library outside Brisbane, which included window graphics installed on the outside of curved glass. They were printed on an HP Latex 360.
"We used Drytac ViziPrint Impress Clear for the windows, mainly for its optically clear benefits as we needed something that would let a lot of light through," says Lewis. "It was also used for its ease of installation and removal when required. The graphics floated on beautifully and the library was pleased with the vibrancy of the colors."
Developed for glass and other smooth, flat surfaces, Drytac ViziPrint Impress Clear is durable and water-resistant for stunning window graphics and other decorative applications. This 5-mil clear PET film is PVC-free and 100 percent recyclable.
The Drytac products were supplied by Shann DPM, appointed as the exclusive Australian distributor for Drytac's extensive range of wide format print media, mounting and protective films earlier this year. Shann DPM is a division of the Shann Group, an established Australian company with over sixty years' experience and a team of over thirty experienced sales representatives on the road.
"Shann gave us a detailed and informative overview of the Drytac products, providing quick and precise answers to any questions we had," comments Lewis. "The Drytac products fulfilled all our requirements for both jobs, with outstanding printing and installation results.
"We'll definitely be using these products in the future."
For further information on Drytac's products and services, please visit www.drytac.com.