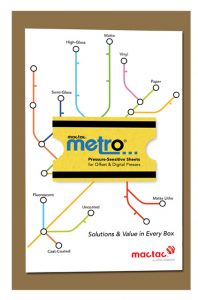 As part of its ongoing commitment to value, quality and innovation, Mactac® Distributor Products has relaunched its METRO® line of pressure-sensitive sheets for offset and digital markets. Mactac METRO was introduced in 1995 as a comprehensive pressure-sensitive product line for offset printers seeking value and quality. Through the years, Mactac's METRO line has continued to pick up steam—evolving and expanding to include more than fifty products designed to meet printers' needs. Notable product line expansions include the addition of pressure-sensitive sheets for digital markets and removable sheets for offset and digital markets.
"For nearly twenty-five years, [the Mactac] METRO line has helped customers stay on track by delivering quality pressure-sensitive sheets at an economical price," said Nate Gill, product manager, Mactac Distributor Products. "Today's METRO line still delivers the quality and value customers have come to expect, but with innovations designed to maximize uptime and improve printing and converting processes."
Innovations to the product line include patented non-ooze adhesives designed to minimize downtime by reducing adhesive buildup on blades during kiss, die or guillotine cutting processes; proprietary top coatings that deliver optimal printability; and layflat liners designed to make printing and converting easy.
Mactac METRO sheets for offset printers are available in an assortment of cost-competitive finishes, including cast-coated, semi-gloss coated litho, matte litho, uncoated offset, fluorescent and color paper.
Meanwhile METRO sheets for Indigo and Toner Fusion printers are available in high-gloss, semi-gloss coated litho, matte litho, uncoated litho, white vinyl, and matte clear vinyl finishes.
METRO sheets for offset and digital markets are available in a wide range of sizes and are ideal for applications such as:
Corporate identification
Cover-ups
Inventory control
Magazine inserts
Package identity/product identification
Point-of-purchase displays
Promotional labels
Short-run jobs
Variable information printing (address, routing, and shipping labels)
Warning and safety labels
For more information about the Mactac METRO line, or any of the high-quality materials available from Mactac Distributor Products, call (866) 622-8223, email [email protected], or visit www.mactac.com/sheets.