Brands wishing to reach the valuable national and global audience that visits Las Vegas use numerous eye-catching, experiential promotional opportunities along the Las Vegas Monorail's four-mile route. From train wraps, interior take-overs, and brand activations on station platforms to covering the exterior of the Las Vegas Convention Center Monorail station during major citywide events, myriad opportunities are available for dynamic and memorable exposure.
Inside the trains, brands have access to twenty-four light boxes per train, as well as the ability to customize wall and door interiors, ceilings, back panels and even the floor. Meanwhile, thirty-second in-train audio spots can be used to relay specific messages to brands' audiences.
On station platforms, brands can customize platform door panels, station walls, elevator exteriors, platform columns—even station rooftops to be seen from hotel towers and air traffic. The Las Vegas Convention Center station also offers large-scale (68-inch-by-142-inch) lightboxes on the platform level, which are seen by every convention Monorail rider.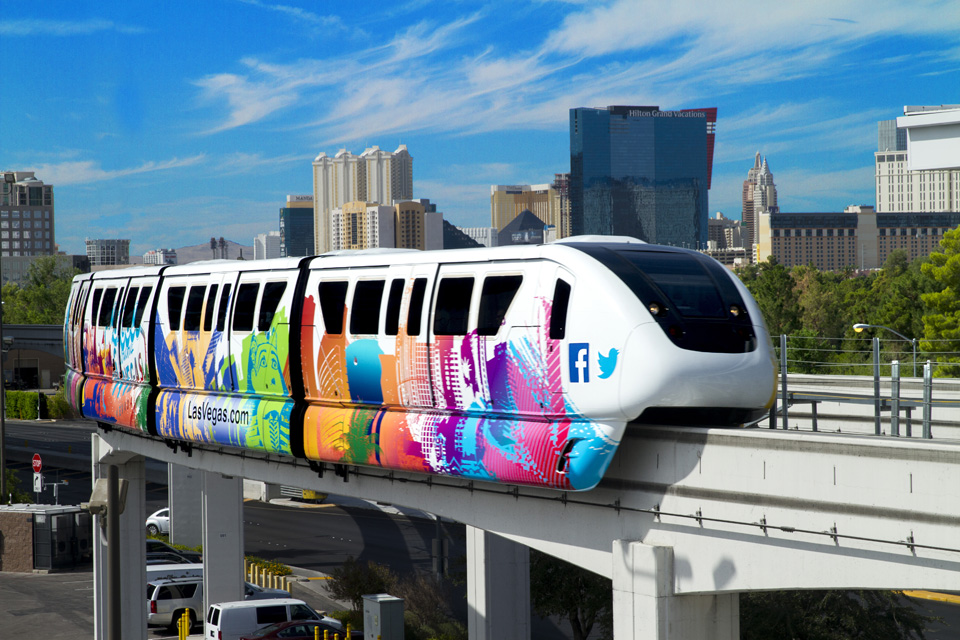 Meanwhile Monorail Magazine, an 80,000-circulation visitor's guidebook to Las Vegas distributed at every Monorail station and customer service desk, offers advertising on its cover.
"A Las Vegas Monorail train wrapped in a brand's logo or image is a proven way to capture the attention of not only riders and Las Vegas visitors but also news media," said Ingrid Reisman, senior vice president and chief marketing officer, Las Vegas Monorail. "Companies can extend awareness of their next big launch by using the Monorail's highly visible trains and platforms. Unlike most traditional advertising, these large-scale, dynamic brand activations on the Monorail have the potential to go viral."
Fast facts about the Las Vegas Monorail:
Carries 5 million passengers annually.
Visible by more than 40,000 automobiles in the Strip area.
Visible by approximately 10,000 hotel rooms along its four-mile route.
Has seven stations and platforms to showcase brands.
Has nine trains to create immersive mobile environments.
About Las Vegas Monorail Riders:
Most are college educated.
Have discretionary income – more than 25 percent have annual household income of $100K-plus.
30 percent are Millennials.
30 percent are international visitors.
19 percent are business travelers.
For more information about advertising on the Las Vegas Monorail, call (702) 699-8200 or email [email protected].