Signage plays an important role in retail environments—particularly in capturing customers' attention and convincing them to make a purchase. The good news when it comes to point-of-purchase (P-O-P) signage is that there are a lot of creative options that can be installed to create a true selling point.
Let's put a little "P-O-P" into your workflow and speak with some industry experts about a few of the components that you can offer through design, build, or installation—in this case, displays, floor graphics, and magnets.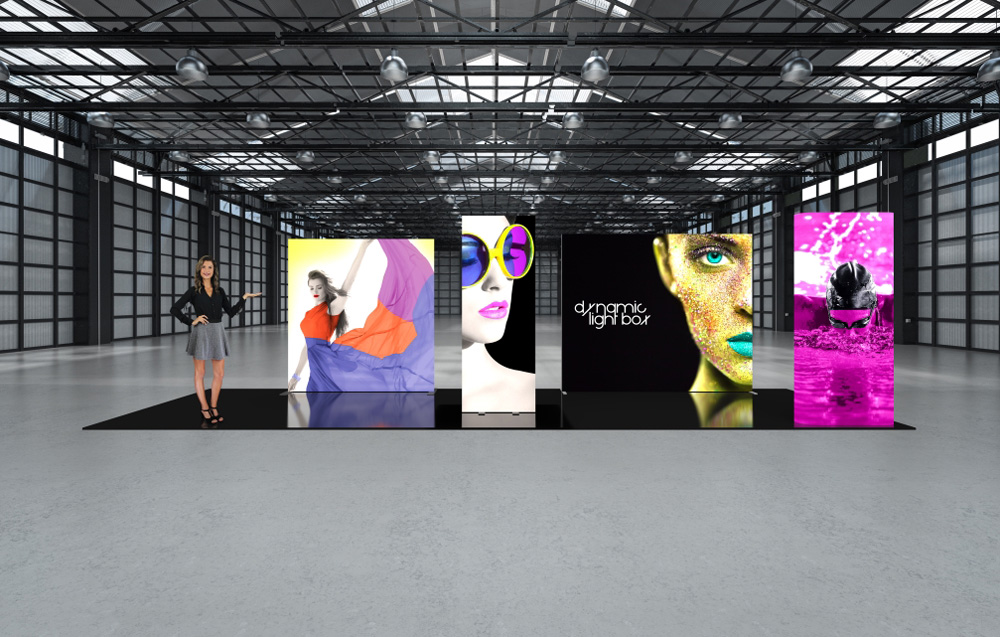 Displays
We'll go ahead and skip the lengthy fine print often found at the bottom of promotional materials and instead make something crystal clear: There are a lot of options when it comes to point-of-purchase displays. Branding and promotional items include vinyl-applied graphics, banners, portable sign stands, collapsible displays, fabric hanging structures, standing light boxes, back wall graphics, kiosks, and poster frames.
Natalie Whited, vice president of Marketing for supplier Orbus Exhibit & Display Group, says that any type of display featuring easily interchangeable graphics are ideal for the point-of-purchase because of their versatility, especially when one considers the need for retailers changing messages from time to time. It really depends on the length of the campaign. "This is most important with standing and wall displays that are accessible," she says. "Given the space regulations, hanging structures will likely utilize the same massage for a longer time period and not be swapped out as regularly."
The versatility of fabrics and soft-type signage is making them an attractive option in the display field (wall art, banners, table-throws, etc.). Soft signage is durable and machine washable and can also be used time and time again, if properly stored. "Soft signage offers a high-end appearance without a high price tag," says Whited.
Advancements in fabric materials, according to Whited, are allowing print providers and retail shops to give a fresh take on something that has already been done, such as illuminated displays or "completely opaque fabrics printed with white ink."
Dye-sublimated fabric graphics, according to Whited, create rich, vibrant color that really gets noticed in stores. "Collapsible fabric and modular banners and back walls all serve as fantastic in-store advertisements for dye sublimation," she says. "Lightweight, portable, and easy to move around the store, collapsible displays offer the ability to promote where the most traffic is located.
"The added benefit of these portable fabric displays is that they can be easily moved if there is a merchandise positioning change or if the display needs to be put away for a period of time."
Light boxes (where the surface of display is internally illuminated from behind) are another popular option. However to make the most of a light box, Whited says you should utilize a combination of dark colors and backgrounds with light, bright, colored text and images.
"A bright, vibrant (even neon!) color approach helps images, logos, and messages really 'pop!'" says Whited. "If the background color or graphic is too light, it will become washed out when it's illuminated, in turn, maybe making less of an impact on the consumer."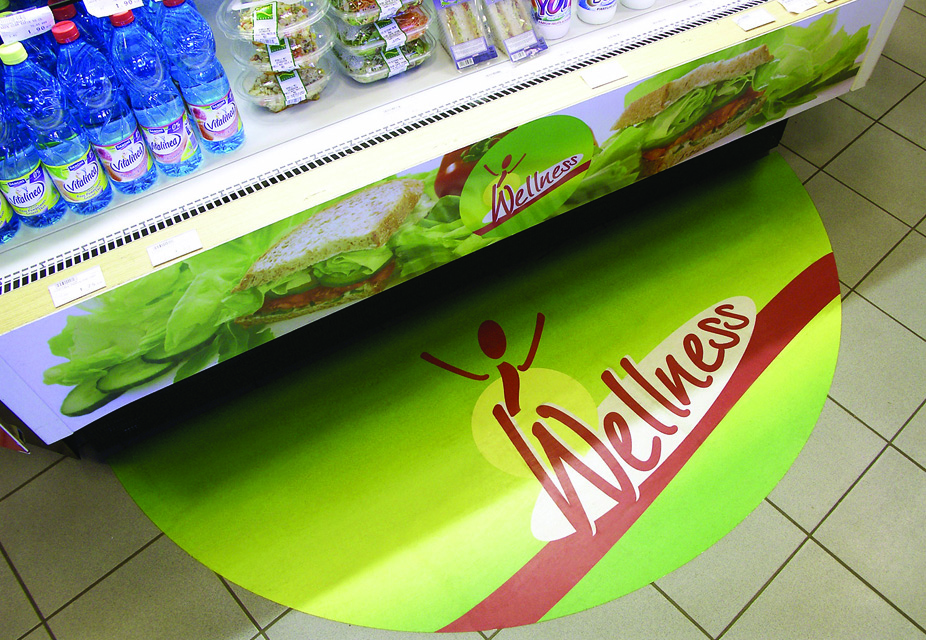 Floor Graphics
Wall and window graphics may be a more prevalent form of point-of-purchase advertisement, but if you look down, you'll see that floor graphics are also an ideal option to enhance the shopping experience. The good news: These graphics are generating even more creative design ideas.
"Sometimes the floor graphic can be something like a finish line with information on a sporting events sponsors; other times, it's announcing a grand opening or purely used for informational messages or directing customers to certain areas of a store," says Jeff Stadelman, marketing manager at Mactac. "And don't think strictly interior. I've seen outdoor floor graphics being used as branded sidewalk-posted stop signs for people who walk and text to prevent them from stepping into a busy street without looking first!"
If you're intrigued by the idea of outdoor sidewalk graphics, some extra planning and preparations will be required.
Stadelman says that, even though there are many things to understand when it comes to sidewalk graphics, they're not really that much different than typical requirements for other signs—surface condition, weather forecast, temperature, rain, etc. How the graphic will be printed is another factor. "If the print provider only has a solvent inkjet printer and the media can only be printed UV or latex, there will be a problem," he says.
Pedestrian safety is another concern with sidewalk media. "There is currently only one specification acceptable for this condition in the U.S.—NFSI/ANSI B101.3," says Stadelman, "and the print provider is responsible for making sure their media choice is approved for the protection of their business and the pedestrians."
Advancements in materials nowadays mean that floor graphics can be applied to various types of surfaces. When it comes to indoor preparation, applying graphics to carpet generally means that it needs to be vacuumed well prior to applications.
"Tile, vinyl, linoleum, terrazzo and ceramic floors must be cleaned first with a commercial cleaner and then washed with isopropyl alcohol to remove any grease, wax, or cleaner solution residues," says Stadelman. "Hardwood floors must be lightly cleaned with a commercial cleaner designed not to harm hardwood finishes, while concrete or asphalt must be swept clean of loose stones and debris."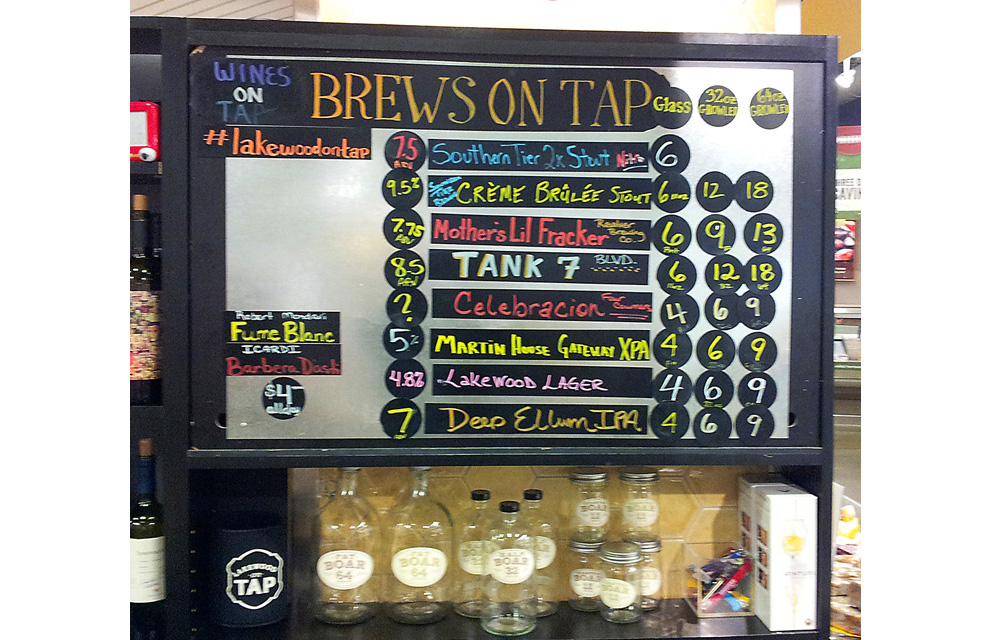 Magnets
Remember earlier when we mentioned that interchangeability is a big plus when it comes to point-of-purchase signage? Well interchangeability is a prime selling point with magnets.
"Magnetic graphic systems (magnetic sheeting and magnetic-receptive sheeting) are ideal since the graphics and copy can be layered, so only the variable part needs to be changed," explains Mike Gertz, marketing manager at Master Magnetics, Inc.
Magnetic point-of-purchase applications include retail store displays, restaurant and mobile menu boards, banks, wayfinding signage, hanging or sign displays, and basically any display that requires frequently changing information or graphics. "For example, a sporting goods store can use a magnetic graphic system to feature seasonal specials showing a large attention-getting photo of the ideal mountain scene for camping and hiking, with overlays of special weekly sales of boots, backpacks, and tents that get replaced, not the entire graphic," says Gertz.
Printable magnetic graphics systems offer the same high-resolution quality as other printable substrates for impressive, attention-getting visuals. "These attributes all help to make magnetic systems a cost-efficient and effective solution," says Gertz.
Other attractive properties for magnets in P-O-P include their simplicity, their durability, and their reusability—indoors or outdoors. "They're repositionable while still offering permanent power with a range of strengths to match the needs of the application," says Gertz.
Be sure to store flexible magnetic sheeting in a clean, dry area. "If rolling, roll with the printed or non-magnetic side out and store on end to avoid any flat spots," says Gertz. "If storing flat, store on a clean, smooth, flat surface. Don't stack sheets magnetic side-to-magnetic side, due to the potential of wrinkling caused by improper pole alignment.
"And don't lay magnetic sheeting on the ground, because the magnet will attract fine iron particles that are on the floor or asphalt or in the dirt!"
You can also utilize magnetic chalkboards for P-O-P purposes. "These are printable with UV, solvent, eco-solvent, and latex inks for template and permanent graphics and copy, and the variable information can be written with chalk or chalk markers," says Gertz, noting that write-on/wipe-off magnetic dry-erase marker surfaces are available too.
While magnetic and magnetic-receptive sheeting can be cut by hand, a CNC table router or cutter are wise investments for the speed and volume needed for commercial print and sign shops, says Gertz.
And think beyond flat magnetic sheeting. Gertz points out that magnetic sign holders and hooks are ideal to hold various types of P-O-P signage.
"Magnetic carabiners are the perfect fastener for vinyl banners with grommets because of their strength and how easily repositionable magnets are with no need for drilling holes or other types of fasteners," says Gertz.