A staple of Louisville, the KFC YUM! Center is a multi-purpose sports and events venue known to draw large crowds of people—more than 23,000—for everything from college basketball games to heavy metal concerts. But crowds of people aren't the only "large" things to make the Center unique. Recently, Center representatives approached S.K. Sign & Banner with an urgent request to print and install a very large, twenty-one-foot-tall wall graphic. And they had to create this wall graphic in just three days.
With a reputation of "not just another sign company," the team at S.K. Sign & Banner knew they had the experience and expertise to meet the stringent demands and get the job done in the timeframe allotted.
Immediately S.K. Sign & Banner decided Mactac® IMAGin® ROODLE™ (RO628) printable media—a media they use all the time due to its print-to-the-edge capability—would be the best solution for creating a faux brick wall and historic Falls City building wall graphic. They confirmed their material choice with partner Athens Paper. Without hesitation, Athens representative Barry Esslinger agreed ROODLE™ was the way to go.
S.K. Sign & Banner began printing on a Wednesday, using an HP Latex 560 printer. The graphic included eleven seventeen-foot panels, each fifteen inches wide. Panels were printed to the edge of the material with a one-inch overlap.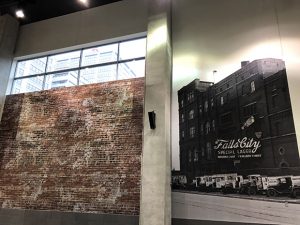 On Thursday, they were installed onto the smooth interior wall, with the lowest panels being applied four feet above the ground. By Friday, the project was complete.
"With ROODLE, our installers didn't even have to tape up the product; it was super easy to install. As long as you RIP the file correctly, the rest is easy," says Stefan Kopf of S.K. Sign & Banner.
Older buildings want to keep their warehouse feel without looking too "cold," and graphics are a great way to accomplish this. The crew at S.K. Sign & Banner not only transformed an interior wall with a cool black-and-white photos but also a faux brick wall. The graphic looks so real that one can't even tell that it is a vinyl print.
ROODLE (RO628) is a 6.0-mil matte white, semi-rigid calendared PVC film designed for UV screen, solvent-based inkjet, and off-set printing. It features a 90# SuperFlat™ polyester-coated Kraft liner and a removable adhesive that is perfect for smooth or tiled indoor wall murals or posters, indoor and outdoor signage, bumper stickers and other removable graphics meant to be printed flush to the edge.
—Press Release