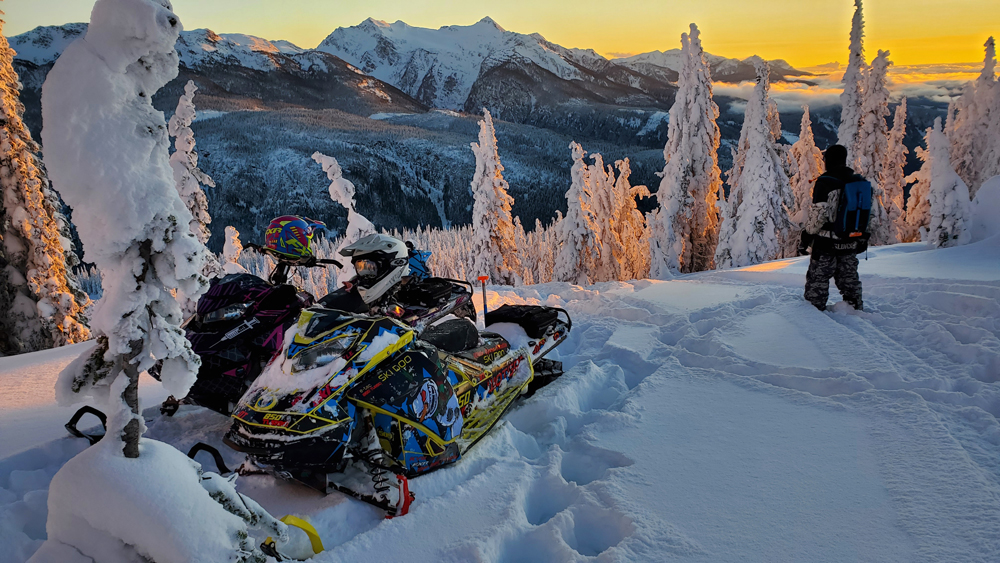 Founded in February 2019, Wide Open Throttle Graphics in Alberta, Canada started in Owner Chris Thiessen's basement out of his passion for powersports. Thiessen wraps all types of vehicles, but powersport vehicle wraps make up 95 percent of his business.
"I grew up around sleds and dirt bikes," he says. "I am sentenced to a life behind bars."
Thanks to a growing demand for his wraps, Thiessen's business soon grew from home-based to a full-service shop.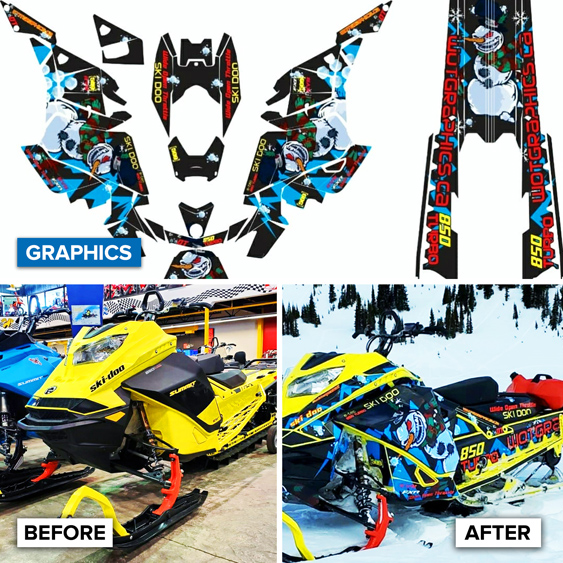 "I started out wrapping graphics to snowmobiles from my basement with just a Roland DG TrueVIS™ SG-540," he said in a press release. "That machine served me well, so with my workload growing, I decided to upgrade to a TrueVIS VG2-540. That's when things began to change dramatically.
"Soon I was able to open a full-service shop offering not only snowmobile wraps but also wraps and graphics for motocross bikes, personal cars and trucks, and fleet vehicles." (Note: Wide Open Throttle Graphics also offers snowmobile rentals.)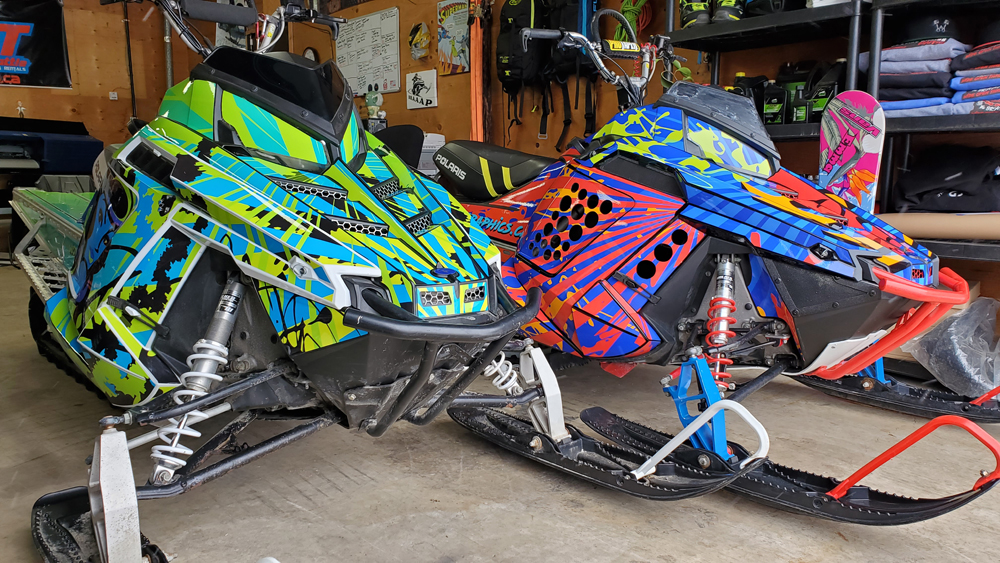 Wide Open Throttle specializes in custom jobs, and Thiessen works closely with his customers to ensure he creates a design that fits their visions.
"I start with a conversation with my customer and try to get a feel for what they are looking for, interests, and what kind of people they are," he says. "Information is key in creating a specific design for a specific person. Everyone is different; this is why I design custom one-offs."
When designing a wrap for a unique medium like powersport vehicles, Thiessen says it's also important to confirm all the information about the customer's machine so the design is on the proper template. Sometimes, however, the vehicles are so unique or new that no template exists.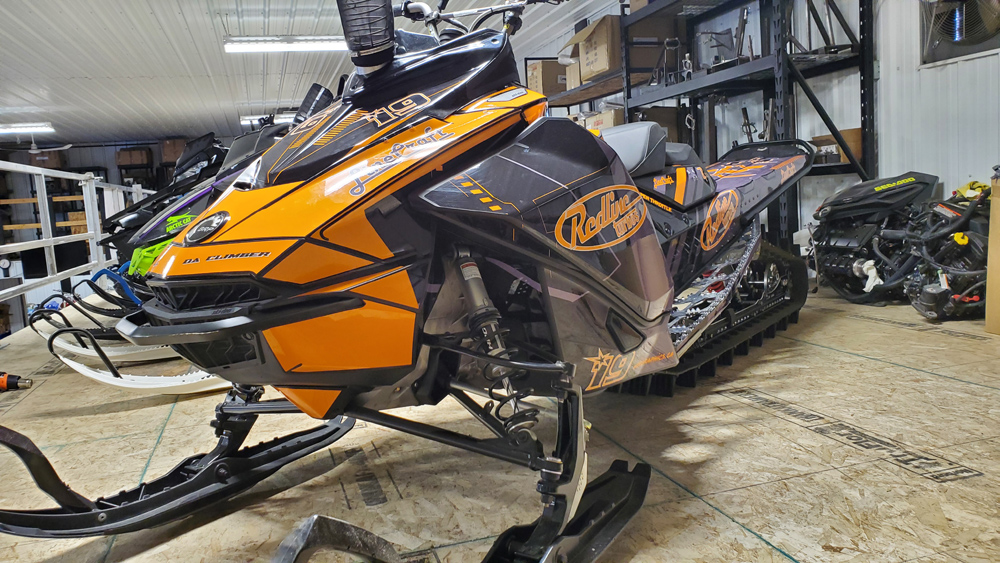 "Each design has its own challenges in it's own way. Some challenges I have faced recently are creating my own template for a specific hood on a sled that was unavailable," says Thiessen. "It took quite a long time with a pencil, tracing paper, and my small little desktop printer scanner.
"After I had the first draft, I cut it out in a less expensive white vinyl to check fitment. It was slightly off in some spots, so I made adjustments, and I ended up with a template for the hood of the new Ski Doo Summit and Freeride Factory Turbos."
Color accuracy is also important when designing these wraps, especially when they include brand or sponsor graphics, which dictate the need to match certain colors.
"When it comes to doing graphics that keep customers coming back, it's crucial to hit specific brand colors like Honda Red, Ski-Doo Octane Blue, and KTM Orange," he noted in a press release, crediting the color-matching capabilities of his TrueVIS VG2. "I do a lot of test prints when color accuracy is needed. Color swatches are printed and sent to the customer."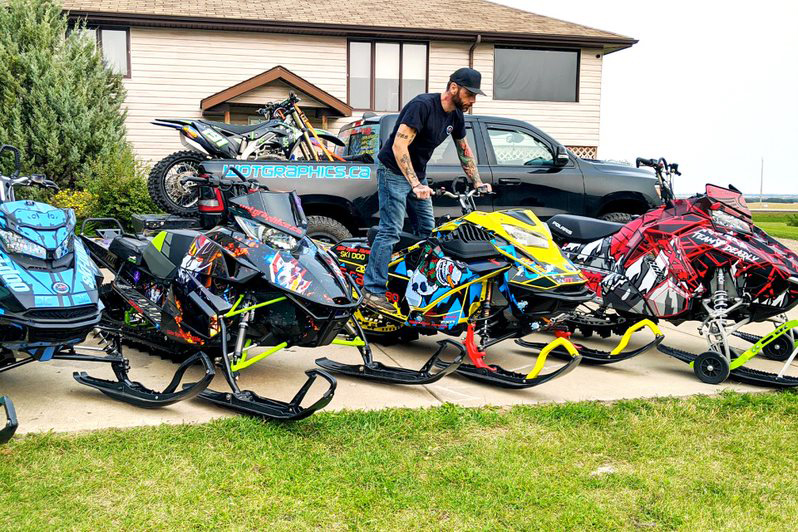 In addition to one-off designs, Thiessen also offers pre-made designs available in kits that he prints and ships to customers all over. These kits have helped Wide Open Throttle widen its business beyond Alberta.
"Wide Open Throttle graphic kits are all across North America," he says. "Kits have been shipped to Texas, to Nunavut, and everywhere in between. I have many U.S. customers and more call every week."