The International Sign Association will be led in 2020 by an experienced board of directors who represent the breadth of the sign, graphics and visual communications industry. They will set strategic direction for ISA throughout the year.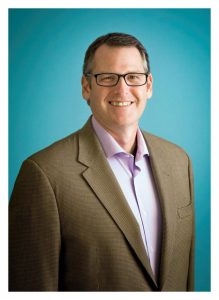 Ken VanHorn (pictured, right) of Mimaki USA, Inc. in Suwanee, Georgia, will serve as Chairman of the Board of Directors. The Executive Committee includes John Yarger, North American Signs, Inc. in South Bend, Indiana, Vice Chairman; Michael Hage, All Signs, Inc., in Gulfport, Miss., Secretary/Treasurer; and Michael Quigley, Sign-Age of Tampa Bay, Inc., Clearwater, Florida, Immediate Past Chairman.
"Serving on the ISA Board of Directors is an incredible time commitment for these already extremely busy professionals," said Lori Anderson, ISA president and CEO. "It speaks volumes about their dedication to the sign, graphics and visual communications industry that they devote so much of their time to helping grow the industry and our member companies."
The remainder of the Board is a diverse mix of leaders who showcase the various facets of ISA membership, including local/custom sign companies, national sign manufacturers, equipment producers and end user groups.
They are:
Matt Baker, Bakers' Signs & Manufacturing, Conroe, Texas
Nicole Bergstrom, SmithCraft Custom Architectural Signs, Phoenix, Arizona
Tim Cambron, Ruggles Sign, Versailles, Kentucky
Deborah Hutcheson, Agfa Corporation, Elmwood Park, N.J.
Andrew Oransky, Roland DGA Corp., Irvine, California
Corey Perez, AdArt, Inc., Flower Mound, Texas
Carlos Salinas, CS Signs, Ladera Ranch, California
Matt Smith, Graphic Solutions Group, Inc., Dallas, Texas
Judy Walton, Premium Outlets | Simon, Laguna Hills, California
Mandy Wisner, Southern Signs, Inc., Natchez, Mississippi
Adam Yorston, Yorston & Associates, Hellertown, Pennsylvania
In addition to setting strategic direction for the International Sign Association throughout the year, the Board of Directors provides important oversight of ISA's leading events. ISA International Sign Expo 2020 is set for April 2-4, with pre-conference workshops on April 1, at the Orange County Convention Center in Orlando, Florida. Learn more at www.signexpo.org.