Sign Builder Illustrated's Shop Talk Podcast, Episode 5 ("Putting on the Ritz (Bar) Sign") features an interview with Chris Stemper, lighting specialist and neon tube bender at Bauer Sign and Lighting in New Berlin, Wisconsin.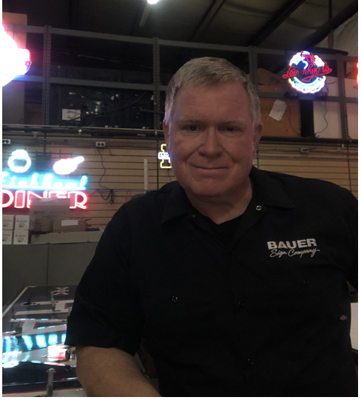 A recent sign restoration project that Chris worked on—The Ritz Bar Sign in Milwaukee, Wisconsin—was featured in our June/July issue. This particular job involved a sign collector bringing rescued porcelain sign faces to Chris for him to restore the neon and incandescent lighting that was prominently featured on them, as well as construct a brand-new aluminum sign frame that would join the sign faces. To read this article, click here.
In this Shop Talk podcast episode, Chris not only provides further details about how he was able to bring the illumination back to life on this sign, but he will also detail his history in the lighting industry, his thoughts on sign retrofits in general, his look at how neon is recapturing the attention of enthusiasts of all ages across the country, and his discussion of how a Facebook group devoted to historical Milwaukee has led him to other restorative projects.