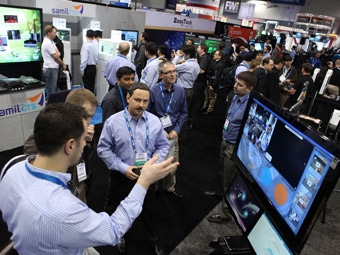 Digital Signage Expo (DSE), the world's largest International Tradeshow and Educational Conference dedicated to digital signage, interactive technology and digital out-of-home networks (DOOH), will present the newest, most cutting-edge technology in the digital signage, interactive technologies and digital out-of-home media industry on February 12-13, 2014, at the Sands Expo & Convention Center in Las Vegas.
DSE's New Product Pavilion will feature dozens of new and innovative products that attendees will have the opportunity to see first-hand, including:
ACTINEON, Inc.: Silent 8QLP (Quad-Video Low Profile)
Black Box Corporation: iCOMPEL Q Series VESA Mini Subscriber
BrightSign: BrightSign 4K
Canon U.S.A, Inc.: REALiS WUX400ST Pro AV Short Throw Projector
Haivision: CoolSign Display Engine
ITS Enclosures: ViewStation QSR Outdoor Digital Menu Board
Kramer Electronics, USA: TP-580TXR & TP580RXR Transmitter & Receiver
NEC Display Solutions: P553
Peerless-AV: Digital Menu Board Mount
Philips Signage Solutions: Philips QL
Samsung Electronics America: Samsung D Series Commercial Display with Enhanced Smart Signage Platform
NewBay Media is sponsoring DSE's New Product Pavilion, which will be located on the trade show floor, but to learn more about the new products to debut at DSE 2014 ahead of time and to see what they look like, go to: http://www.digitalsignageexpo.net/dse-new-products-pavilion
Chris Gibbs, President of ExpoNation, LLC, the producer of Digital Signage Expo said, "Creativity, innovation and growth continue to be hallmarks of our industry, and nowhere is that more apparent than on the DSE 2014 trade show floor and in DSE's New Product Pavilion Showcase," said Chris Gibbs, president of ExpoNation, LLC, the producer of Digital Signage Expo.

Register to see all the newest technology in person, or to attend any of the educational programs at DSE, many of which are eligible for Digital Signage Expert Group (DSEG) certification or renewal credits, go to: www.digitalsignageexpo.net.
Mark your calendar now: Digital Signage Expo® 2014, co-located with the Digital Content Show, is scheduled for February 11-13, 2014, with access to the Exhibit Hall February 12 & 13 at the Sands Expo & Convention Center in Las Vegas. To reserve exhibit space contact Jeanne Phillips, (770) 817-5903. Or, for more information, visit www.digitalsignageexpo.net. You can follow DSE on Twitter at DSExpo, or for all DSE 2014 updates, use #dse2014. For year-round news and information on digital signage, visit DSE's new Digital Signage Connection web portal at www.digitalsignageconnection.com.