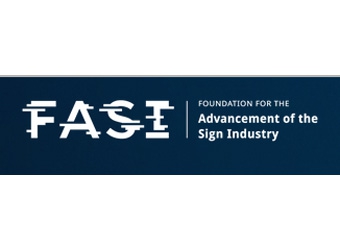 The Foundation for the Advancement of the Sign Industry (FASI) has awarded the first of what it hopes will be numerous scholarships to collegiate members of the Academic Advisory Council for Signage Research and Education (AACSRE). Stephanie Onwenu, a junior in the Landscape Architecture program in the School of Planning, Design and Construction, College of Agriculture and Natural Resources at Michigan State University (MSU), has been awarded a $1,000 scholarship.
Dr. Pat Crawford, Associate Director of Planning Design & Construction at MSU, stated, "Stephanie is part of the research team exploring perceptions of on-premise signage in urban streetscape environments using the IBM VAS software. She will also be exploring, first hand, urban signage in Spain, the United Kingdom, and Italy during her study abroad in March and April 2017."
In a letter to FASI, Stephanie wrote, "This opportunity will allow me to compare and contrast the various ways and forms that signage is manipulated around the world. Following on into the next school year, I plan to begin my Masters in Environmental Design [MED] graduate courses through the dual-degree program here at MSU. For my area of study, I plan to include an element of focus on signage in urban designed spaces."
Wade Swormstedt, FASI's executive director, said, "FASI is very proud to assist in the education of college students with an interest in signage. FASI hopes to announce many more of these scholarships throughout the year. FASI believes such scholarships support the groundwork laid by the National Signage Research & Education Conferences [NSREC] sponsored by The Signage Foundation."
FASI (www.fasi.org) is dedicated to serving as a resource for the on-premise sign industry, and a clearinghouse of information for and about on-premise signs. FASI strives to proclaim the societal benefits of on-premise signage, and to support the efforts of on-premise sign organizations, including associations, universities, trade publications, and end-user groups.