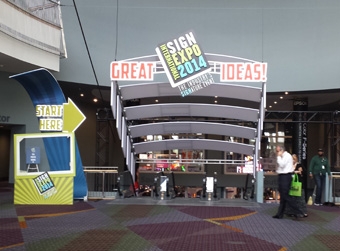 For the second year in a row, ISA International Sign Expo 2014 has broken attendance and exhibit hall records for its show, which just closed in Orlando, Florida.
Attendance topped 18,110, up more than 10 percent over 2012, the last time the show was held in Orlando. Total exhibit hall space, at 198,900 square feet, was also a record-breaker for Orlando, up five percent from 2012. In all, more than 580 companies were represented on the expo floor, with a significant number using the show to introduce new product lines.
ISA International Sign Expo, sponsored by the International Sign Association, alternates between Orlando and Las Vegas.
Other highlights from 2014:
+ The Dynamic Digital Park included 12 new exhibitors and was 34 percent larger than in 2013;
+ The Hosted Buyer Program, which brings designers and architects to the show, doubled in size over 2013;
+ A new educational track, project management, proved popular with attendees. It was created after a roundtable discussion in 2013 showed the need for more education on this topic. Overall attendance at educational events was up 34 percent from 2012; and
+ A record number of co-located events, including Almo E4 A/V Tour, the Inflatable Advertising Dealers Association, and an event co-sponsored by the Society of Experiential Graphic Design.
"There is no doubt that ISA International Sign Expo 2014 was an unqualified success," said Lori Anderson, ISA president and CEO. "There were opportunities at every turn for sign companies to expand their businesses and to refine and improve their existing lines. Clearly, many took advantage of those opportunities and exhibitors reported strong sales. That is just another signal that the on-premise sign industry is stronger than ever."
ISA Sign Expo 2014 included a number of enhancements to improve the overall show experience, including ISA's first app, designed to connect and assist attendees throughout the show and multiple networking opportunities. The event also included several creations by the Six-Minute Painter, an artist who creates masterpieces in just a few minutes. Those projects were auctioned off at the end of the show, with proceeds benefiting ISA Affiliated Associations.
ISA International Sign Expo 2015 is scheduled for April 8-11, 2015 in Las Vegas.