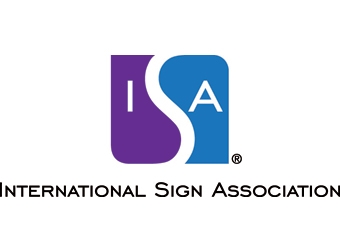 With scores of new and innovative products on the ISA Sign Expo tradeshow floor, it can be challenging to determine what's best. ISA Sign Expo attendees were up to the task, awarding a Best New Product and Best Green Product.
Mutoh America, Inc., bested other competitors to earn the title of Best New Product while KeyedIn Solutions took home the Best Green Product prize.
"ISA Sign Expo remains the place where the sign and visual communications industry bring their latest innovations," said Lori Anderson, ISA president and CEO. "We were overwhelmed with the number and diversity of new products available on the tradeshow floor. While only one product earned each title, it's clear that all of those participating have created interesting new ways for sign and visual communications companies to grow."
Attendees were able to visit the booths and see the products before casting a vote online or via the ISA Sign Expo app.
Mutoh's ValueJet 426UF tabletop printer, ISA Sign Expo's Best New Product, prints on any substrate up to 2.75 inches thick. Printers can use CMYK+ White and Varnish ink for added textures and applications.
KeyedIn Manufacturing – Sign Edition, ISA Sign Expo's Best Green Product, provides cloud-based software accessible from computer workstations on the shop floor. This allows shops to reap the benefits of being environmentally friendly by reducing paper usage.