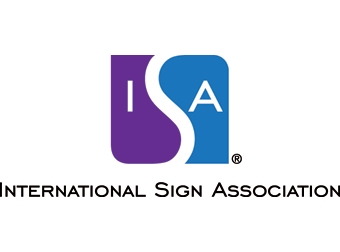 The International Sign Association's Sign Industry Quarterly Economic Report continues to show a stronger-than-average outlook for the sign and visual communications industry in four key segments. All segments show a minor dip in expected growth since the last report, though the shifts are small and don't alter the overall trend.
The ISA Sign Industry Quarterly Economic Report covers the second quarter of 2015 and forecasts through 2016. It assesses four segments-printing, digital signage, electric signage and wayfinding-and related economic factors. In general, it shows a positive outlook for both the U.S. and global economies.
The Economic Report, which was prepared in June using second quarter data, is sponsored by the National Association of Sign Supply Distributors (NASSD).
Other highlights:
Suppliers to the electronic and digital sectors of the market will experience favorable conditions in 2015 with accelerating growth in 2016 and 2017, although that rate of acceleration has cooled slightly since the previous forecast.
Suppliers to the print side of the industry should continue to see favorable conditions through 2017 but will likely continue on a steady growth trend, one that will be on a slightly lower trajectory than previously forecast.
The end market for static and wayfinding signs should see very favorable conditions in 2015 with growth cooling in 2016 and 2017.
The report, compiled by IHS and Vandiver Associates, analyzes each segment of the market upstream and downstream to allow users to stay current with evolving business conditions.
Those interested in learning more about the ISA Sign Industry Quarterly Economic Report and what it shows for 2015 and 2016 can participate in a free WebEx hosted by IHS at 2 p.m. ET July 16. Learn more at www.signs.org/webinars.
The report is free for ISA, ISA Affiliated Association and NASSD members. Non-members may purchase it for $1,000 per forecast. This research can be accessed at www.signs.org/quarterlyreport.