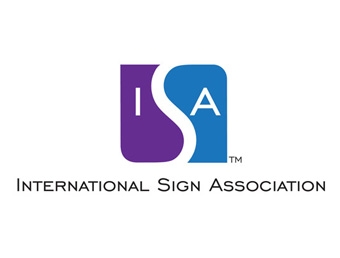 The International Sign Association's Sign Industry Quarterly Economic Report shows that the majority of market segments will continue to grow at a stronger than average pace in 2016. The ISA Sign Industry Quarterly Economic Report covers the fourth quarter of 2015 and forecasts into 2017. It assesses four segments—printing, digital signage, electric signage, and wayfinding—and related economic factors. In general, it shows growth for both the U.S. and global economies.
In the U.S., consumer spending is supported by solid gains in employment, real disposable income and housing asset values. Globally, only a modest pickup in growth is expected in 2016.
The Economic Report, which was prepared in December, is sponsored by the National Association of Sign Supply Distributors (NASSD).
Key highlights:
North American digital signage advertising revenue was forecast to grow nearly 11.6 percent in 2015 before accelerating to 15.3 percent growth in 2016, surpassing global growth of 11.3 percent.
The end market for electronic and digital signs experienced a strong 2015; however, the outlook for 2016 and 2017 continues to indicate a deceleration in activity as the industry returns to a normal trend.
Construction of nonresidential structures finished 2015 with healthy growth, creating favorable conditions for static and wayfinding signs in 2015. Growth should ease in 2016 and 2017 as the industry returns to its long-term trend.
In digital signage, total revenue for services and other hardware will both expand 5.1 percent for 2016.
The report, compiled by IHS and Vandiver Associates, analyzes each segment of the market upstream and downstream to allow users to stay current with evolving business conditions.
Those interested in learning more about the ISA Sign Industry Quarterly Economic Report, how 2015 ended and the outlook for 2016 can participate in a free webinar hosted by IHS at 2 p.m. ET January 14. Register at www.signs.org/webinars.
The report is free for ISA, ISA Affiliated Association and NASSD members. Non-members may purchase it for $1,000 per forecast. This research can be accessed at www.signs.org/quarterlyreport.