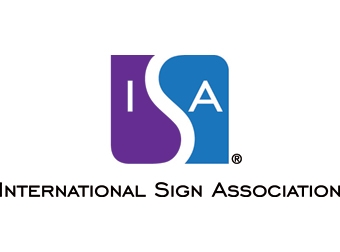 ISA International Sign Expo 2015 offers the best place to experience the sign and visual communications industry's leading products. Many of those products can be seen in action throughout the show to create its exciting atmosphere.
"We so value our in-kind sponsors who help make ISA International Sign Expo vibrant each year," said Lori Anderson, ISA president and CEO. "Providing these top-notch products gives us an opportunity to visibly showcase our industry. And it allows attendees to get inspired by new uses that can better serve their customers."
Attendees at the event, held April 8-11 at the Mandalay Bay Convention Center, can see the following products in use and learn more at the corresponding exhibitor booths.
Alumigraphics, Booth #1420, showcases the AlumiGraphics Grip outside the Shark Reef in a floor concrete graphic. Its AlumiGraphics Smooth wraps the taxi columns outside the entrance to Mandalay Bay.
Brittani Display, Booth #2627, uses the Luce product to create a lit counter for the podium in the Print Application Center. Its Le Plus product creates the Print Application Center's stage backdrop.
Clear Focus, Booth #1744, uses its EasyCling as a window cling along the pool walkway.
Continental Grafix, Booth #4789, uses its panoRama Walk & Wall to provide directional floor graphics in the exhibit hall.
Daktronics, Booth # 2974, places its 4mm video display in the Bayside foyer outside the exhibit hall to display schedules and other useful information.
Fisher Textiles, Booth #2580, uses GF 8880 Opaque White to create the back wall of the Dynamic Digital Park.
GBC & Seal, Booth #1579, uses its floor graphics for maps of the show floor on the aisles of the tradeshow floor.
Magx, Booth #1941, creates a magnet backwall for the opening ceremony using its Magx Flexible Magnetic Sheeting. The magnet will be displayed on a roll-up door.
Radiant Manufacturing, Booth #2162, applies its SolaRay sequin panels at the Entrance Experience and at both entrances to the exhibit hall.
Sloan LED, Booth #2970, uses SlimLINER products at the registration counters and in the HUB center counter. Its V Series (blue) is used in the HUB kiosks.
Texture Plus, Booth #4389, provides the front of the Registration counters using its Diamond Plate Silver. The Stacked Stone Light Tan Interlock is used to create planters in the Dynamic Digital Park.
Top Value Products, Booth #532, applies its TriPoly dye sub performance textile to the Lounge & Learn wall.
Vantage LED, Booth #735, is providing five information and charging stations to keep the ISA Sign Expo attendees informed and powered during the show.