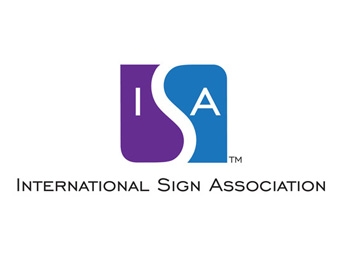 The second annual Sign Manufacturing Day, sponsored by the International Sign Association in conjunction with the National Association of Manufacturers, will showcase the diverse career options in the sign and visual communications industry. Currently, seventeen ISA member companies in twenty-one locations are expected to take part in the October 3 event.
Participants in Sign Manufacturing Day invite area high school, technical and community college students to their facilities to show how the businesses operate and how they contribute to their communities. Sign companies and suppliers receive the full support of ISA and NAM, which provide a tool kit to help companies plan and execute the program.
"Inviting these students inside the facilities to hear about the many types of jobs available in the sign and visual communications industry will go a long way to solving workforce development challenges in the coming years," said Lori Anderson, ISA president and CEO. "Companies that participated in 2013 said many students had questions about internships. I don't think it will be long before we hear of the first hires as a result of this program."
It's not too late for businesses to sign on for 2014 Sign Manufacturing Day. Contact Alison Kent [email protected] to learn more.
Participating companies and locations for 2014 include:
• Arrow Sign Company, Stockton, CA
• Cummings Resources, Dothan, AL
• DaNite Sign Company, Columbus, OH
• Federal Heath Sign Company, LLC, Oceanside, CA; Jacksonville, TX; Euless, TX; Delaware, OH
• Harbinger Sign, Jacksonville, FL
• Jones Sign Company, De Pere, WI
• Lewis Sign Builders, Buda, TX
• Mattatall Signs, Ltd., Dartmouth, NS
• North American Signs, South Bend, IN
• Ortwein Sign Custom Crafted Branding, Chattanooga, TN
• Persona, Watertown, SD; Madison, SD
• Poyant Signs, Inc., New Bedford, MA
• Ramsay Signs, Portland, OR
• Sign-Age of Tampa Bay, Clearwater, FL
• Southwest Signs, San Antonio, TX
• YESCO, Salt Lake City, UT
• Ziglin Signs, Inc., Washington, MO