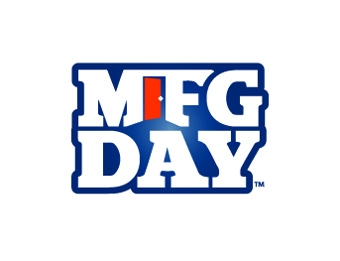 More than 2,200 students got an up-close look at the sign and visual communications industry as part of Sign Manufacturing Day 2015. The event, designed to showcase careers in the sign and visual communications industry to the next generation of workers, is sponsored annually by the International Sign Association and the National Association of Manufacturers.
In all, thirty-four ISA member companies opened up forty-three locations throughout the U.S. and Canada, reaching students from elementary to technical schools.
Participating companies reported that students were engaged and asking questions about how skills relate to their schoolwork. Some asked about jobs and internships. In addition to students, some sites were visited by state and local political leaders, community officials and news media. Sign Manufacturing Day is held annually the first Friday of October.
"This only reinforces the awareness that we need to recruit and keep the next generation of workers," said Lori Anderson, ISA president and CEO. "Over the last three years, we've made more than 3,500 students aware of the exciting job possibilities in our industry.
"This is just one of the ways that ISA is responding to the critical need for workers."
The International Sign Association also recently launched a digital badge program in conjunction with NOCTI, an occupational proficiency testing organization. Students who pursue a digital badge can show potential sign industry employers that they have skills beyond a typical entry-level position. ISA and NOCTI also are in the process of developing a badge program for workers already in the sign and visual communications industry.
ISA's Career Center (www.signs.org/careercenter) includes links to videos about sign manufacturing and flyers about careers in the industry, both of which sign and visual communications companies can use in reaching potential employees.
Companies participating in Sign Manufacturing Day 2015 were:
Advantage Signs, Fort Saskatchewan, AB
Allen Industries, Greensboro, NC
Allen Industries, Clearwater, FL
Colortec Creative Print Solutions, Burnaby, BC
Cummings Resources, Dothan, AL
Cummings Resources, Colton, CA
DaNite Sign Company, Columbus, OH
Daktronics, Brookings, SD
DuraColor — part of Federal Heath Sign Company, LLC, Racine, WI
Enseignes Plus, Châteauguay, QC
ESCO Manufacturing, Watertown, SD
Federal Heath Sign Company, LLC, Jacksonville, TX
Federal Heath Sign Company, LLC, Euless, TX
Federal Heath Sign Company, LLC, Delaware, OH
Federal Heath Sign Company, LLC, Oceanside, CA
Green Sign Company, Greensburg, IN
Hansen Signs, Moncton, NB
Holthaus Lackner Signs, Cincinnati, OH
Impact Signs Awnings Wraps, Sedalia, MO
Lewis Sign Builders, Buda, TX
Mattatall Signs, Ltd., Dartmouth, NS
North American Signs, South Bend, IN
Nova Polymers, Bryan, OH
Park Place Sign Systems, Inc., Hannibal, MO
Poyant Signs, Inc., New Bedford, MA
Pride Signs, Cambridge, ON
Ramsay Signs, Portland, OR
Ruggles Sign, Versailles, KY
Sign Designs, Joplin, MO
Sign-Age of Tampa Bay, Clearwater, FL
Signs by Crannie, Inc., Flint, MI
Signs Plus, Bellingham, WA
Signtech Electrical Advertising, Inc., San Diego, CA
Sleek Advertising Ltd, Regina, Sask.
Steel Art Company, Norwood, MA
Tako Tyko Signs & Lighting, Los Angeles, CA
Tube Art Group, Bellevue, WA
World Wide Sign Systems, Inc., Bonduel, WI (Corporate Office)
World Wide Sign Systems, Inc., Carson City, NV (Western Division)
World Wide Sign Systems, Inc., Atlanta, GA (Southern Division)
World Wide Sign Systems, Inc., Shawano, WI (The Channel Letter Factory)
YESCO, Salt Lake City, UT
Ziglin Signs, Inc., Washington, MO
In addition, Altec Industries provided support to participating companies that are members of the ISA Affiliated Association Northeast States Sign Association but did not open a facility for tours.