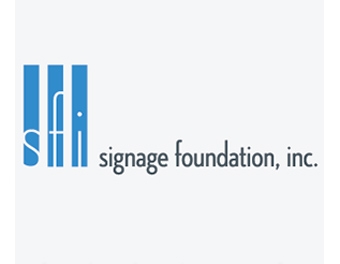 The Signage Foundation, the research arm of the sign and graphics industry, has added two experienced sign professionals to its Board of Trustees. Ted Kiper, founding principal with Cardosi Kiper Design Group, and Judy Walton, senior tenant sign manager with Simon Property Group's Premium Outlet portfolio, began their two-year terms on February 1.
Kiper's firm develops and implements wayfinding signage, exhibit, donor recognition, and marketing communication programs with a specialization in healthcare, education, and transportation programs. Prior to founding Cardosi Kiper, Kiper was project manager and design director with Naughton + Associates, where he worked on the development of trailway wayfinding programs for non-profit associations and municipalities, in addition to large-scale wayfinding systems. He was project manager and lead designer for the 400-gate, 2 million square-foot Terminal D project at Dallas/Fort Worth Airport.
Walton is responsible for the creation and continued management of the tenant sign program for more than seventy-five Simon shopping centers. She collaborates with a diverse array of professionals from architects and engineers, to designers, to municipal officials. Her efforts have created optimal results for both tenants and landlord alike. In 2013, she implemented LED lighting specifications that resulted in significant cost savings. In 2015, she successfully managed the design and installation of more than 750 illuminated signs, during the opening of the portfolio's impressive six new development projects.
"We are thrilled to have Ted and Judy bring their expertise and unique insights to the Signage Foundation Inc.'s Board of Trustees," said Duane Laska, SFI Chairman. "Their diversity of experience will help the board ensure that we are developing signage programs and research initiatives that truly contribute to the public good."