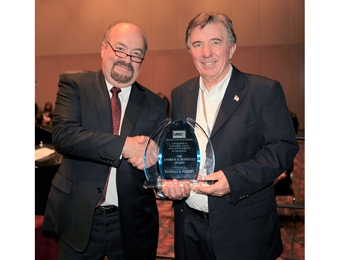 The United States Sign Council (USSC) recently chose Randy Wright of RKW Consulting in Montoursville, Pennsylvania, to receive the prestigious Andrew D. Bertucci Memorial Award for Service Above Self. The Bertucci Award is presented only when an individual within the organization shows extraordinary devotion to the Sign Council and whose work has made a significant contribution toward the betterment of the sign industry. The award is only presented when outstanding service needs to be recognized.
To understand the significance of this award, it is important to take a few moments to talk about the person for whom it is named. Andrew Bertucci was one of the original founders of the Eastern States Sign Council. Bertucci combined his extraordinary talents to assist in bringing together this first diverse group of leaders and to form what today has become the largest organization of independent sign shops in the nation—the United States Sign Council. This award memorializes an individual who has demonstrated in both his or her personal and business life what service above self truly means.
Randy Wright truly exemplifies the term "service above self."
He has been involved in the sign industry his entire career, having owned a sign shop and then being involved on a regional and national level in a leadership position with various sign associations. He has volunteered tirelessly to further the work of the Sign Council in the areas of electrical and fire safety. He currently represents the Council on numerous boards and code panels such as Underwriters Laboratories and the National Fire Protection Association to name a few. He currently is a consult to the USSC assisting members with any problems they may encounter in the areas of electrical and fire safety and he recently volunteered to assist with the week-long crane certification classes held during Sign World International.
The United States Sign Council is an association of sign professionals dedicated to providing research and education to all who are involved in the sign industry. Membership is open to any person or firm concerned with the advancement of the sign industry, particularly as such advancement impacts professional growth, positive public perception, and on-going educational and training programs.
For more information about USSC, call 215/785-1922 or visit www.ussc.org.