YESCO, the 101-year-old company known for creating, repairing and maintaining internationally recognizable signs, announces the design, fabrication and installation of new signs for Loma Linda University (LLU) in Loma Linda, California.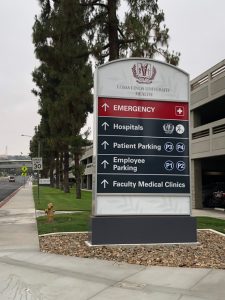 Started in September 2018, the signage project encompassed four phases. The first phase included the installation of five over-the-road (OTR) signs, including hanging cantilevers with Department of Transportation (DOT) displays and five monuments.
The second phase included the installation of three OTR hanging cantilevers with DOT displays and five monuments.
Phase three included the installation of one OTR hanging cantilever with DOT displays, one monument alongside a directional reface for the grand opening of a new hospital and a new emergency entrance. The fourth and final phase of the project included two bridge signs with DOT displays.
The sign installation surrounds the LLU campus and includes Academy St., east- and westbound on Stewart and north- and southbound on Anderson St. The signs are also on display from Campus St. to Barton Rd. And, on Barton Rd., the signs go east- and westbound before Anderson St and eastbound on Waterman Ave.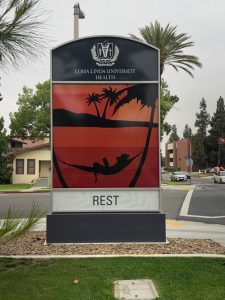 FUN FACTS:
It took YESCO 12,482 man-hours to complete the sign project.
The largest sign, a bold statement piece, measures 19-feet-tall with a 47-foot cantilever attached to 13.5-feet deep concrete footing installed on a hillside along Barton Road.
All monuments and OTR signs incorporate an art piece created by local artists. LLU called for entries in from October 2018 to March 2019 and again from April 2020 to August 2021. The University voted on three finalists for each location. From there, the city planning commission selected the winners.
The OTR signs weigh approximately 17,000 pounds. The cantilever weighs 9,500 pounds.
"YESCO has been working with Loma Linda University for more than 20 years, and we look forward to continuing to support their vision," said Michael Reyes, project manager, YESCO. "We're gratified to say our client is very pleased with the results."