Keeping your sign teams safe both inside the shop and during an installation should always be a top priority for you. Between the hazardous chemicals, heavy equipment, and sharp tools, we all know how dangerous the shop floor can be and how costly it is when employees get sick or injured.
High-volume and rush jobs can drastically increase the risk of someone slipping and falling or suffering a severe cut. Your liability can be even worse if a customer is involved.
Training your employees in safety can sharply reduce those expenses—and it doesn't have to cost you a dime or take up everyone's time with meetings about procedures. All it really takes on everyone's part is constant awareness.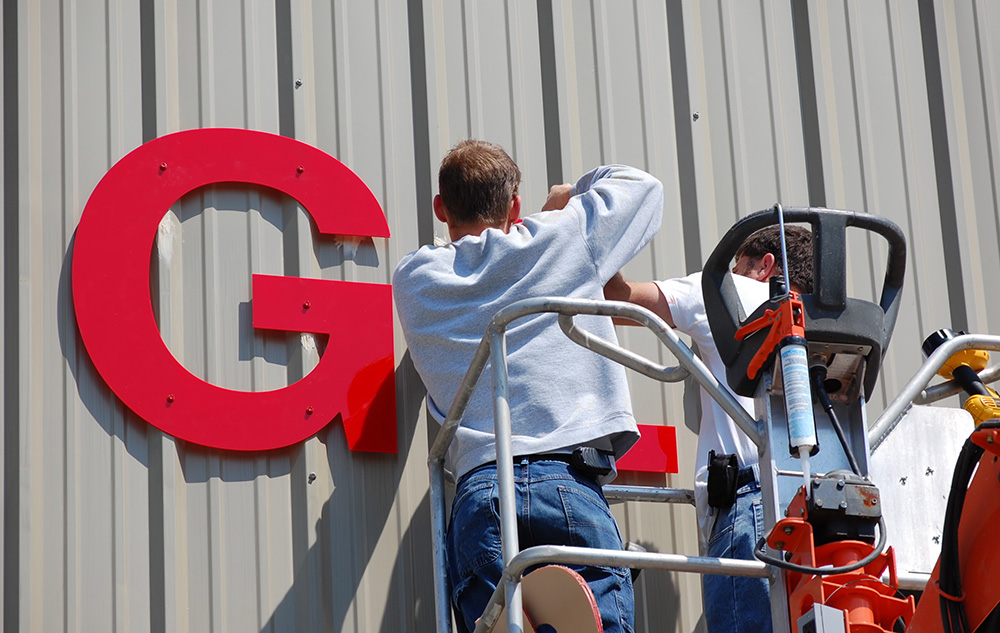 Consider the costs of not being vigilant:
Employers paid more than $1 billion a week in worker's compensation costs alone in 2019, according to the Occupational Safety and Health Administration.
The total cost, including worker's comp, medical expenses, and lost productivity, was $171 billion that year, reports the National Safety Council.
The National Safety Council also tells us that a worker is injured on the job every seven seconds.
The manufacturing and production industry we are part of has the third-highest worker injury rate. But we can also consider ourselves part of the transportation/shipping and installation/maintenance industries, which have the second- and fourth-highest rates respectively.
In its "Business Case for Safety and Health," the Occupational Safety and Health Administration advises that effective safety training can reduce injuries and illness and its accompanying costs while improving productivity and profitability.
Signarama has a mandatory safety training program conducted by our corporate training team that covers all potential hazards in a sign shop—from fall prevention to ergonomic safety. We believe it covers all aspects of an effective training program: that it be comprehensive, that it covers all potential hazards, and that it is tailored to the specific needs of the employees.
Training your sign team to keep them safe should be conducted in a way that is engaging and easy to understand. It's also important to provide employees with the opportunity to practice what they've learned.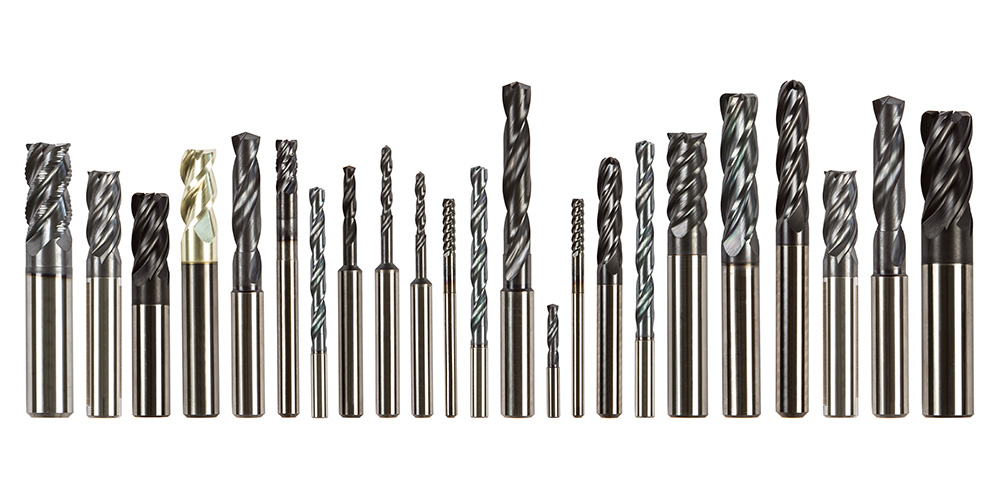 Here are some helpful tips to encourage everyday safety around your shop and on job sites:
Make it a habit. Essentially train your employees in safety every day.
At my Signarama franchise in Covina, California, new employees spend their first week with the store's production manager, who shows them proper procedures (including safety). This approach ensures that the employee will internalize safety procedures and see them as an integral part of the job.
Having a dedicated safety program carved out of the workday is fine; make sure that it's reinforced every day so that employees will make it an ingrained habit.
Emphasize cleanliness. A clean shop is a safer shop, but on a busy workday, it can be easy to relax standards. Don't let that happen.
Ensure employees keep their spaces clean as they work, especially after the job is done. When tools and scraps of material are left on the floor, they create tripping and slipping hazards.
Keeping supplies in a dedicated place also enhances productivity; there's no time wasted hunting for that straight edge you "could have sworn was right here."
Remember the customer. It's important to keep the shop floor and the customer service area separate, so customers can't stray into a hazardous area.
If a customer is able to see into the work area, be extra sure that it's clean and neat. If they see a sloppy shop, it may give them second thoughts about doing business with you.
Keep them safe offsite. Be sure your teams are working safely while they're working away from your shop.
Insist that they adhere to limits on ladder height, use safety cones, and secure the work area with "Do Not Cross" tape or signage that will keep non-employees out of danger.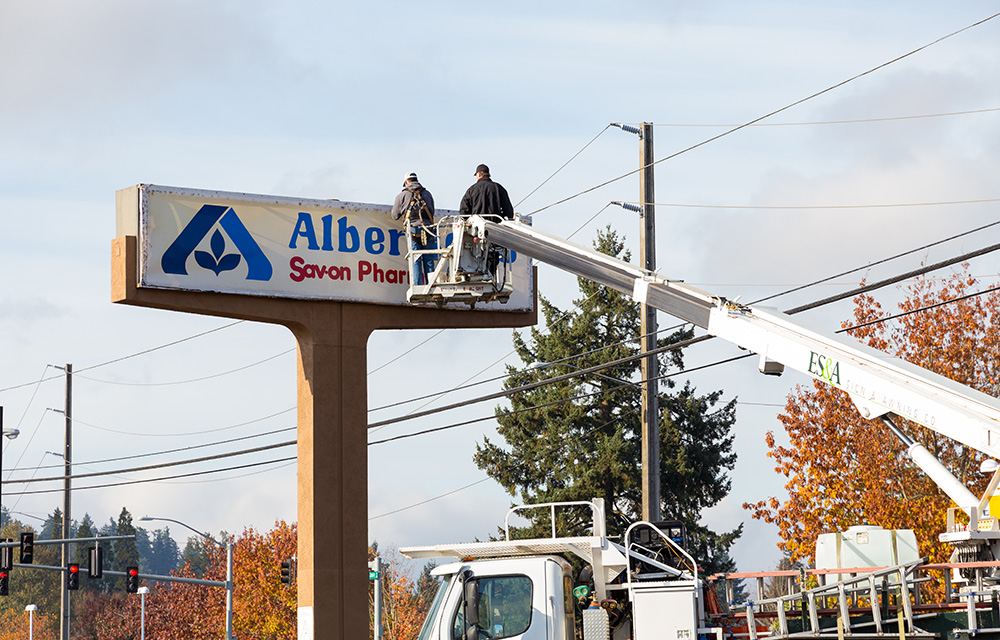 Provide the right tools for the right job. Keep equipment up to date and in good condition. For instance, if any of your straight edges have lost the guard piece that protects fingers, toss them out.
However it's still important to have a contingency plan for the inevitable equipment failures.
Require that cutting blades always be stored with their caps on. You know at least one will lose its cap, so it's smart to provide an alternative way of storing them (like a Styrofoam™ block they can be stuck into).
Make everyone responsible. It's your job to provide the resources for job safety, but everyone in the shop is responsible for keeping the workplace safe.
Assign a site supervisor to monitor compliance with safety rules, and when the plan is not followed, get the infraction documented and have a plan so the error is not repeated.
Training your sign teams on the importance of staying safe can protect you from the high costs of medical care and lost productivity.
Emphasize safety for the most important reason—your workers. They're just too valuable to risk seeing them get injured or losing them entirely.
Whether you institute a formal safety training program or make safety an everyday concern, be sure your teams know how important it is to you, to them, and to the business.
Ted DeWitt has been a Signarama franchise owner in Covina, California, for more than fourteen years and has more than forty years' experience in the graphic arts industry. He specializes in outdoor and indoor signs, banners, letters, graphics, displays, and points-of-purchase.