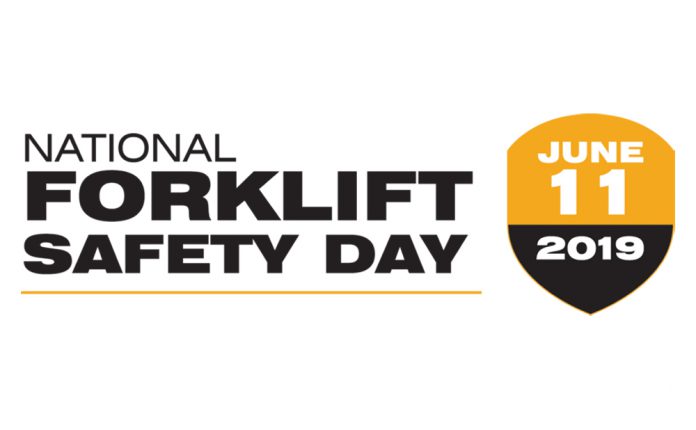 The Industrial Truck Association (ITA) is holding its sixth annual National Forklift Safety Day on Tuesday, June 11, 2019. The event serves as an opportunity for forklift manufacturers to highlight the safe use of forklifts, the value of operator training, and the need for daily equipment checks.
"As the North American forklift market continues to be an important component in the economy and supply chain, the need for safety in the workplace becomes even more prevalent," said Scott Johnson, vice president of sales and marketing for CLARK Material Handling Company and chairman of ITA. "National Forklift Safety Day provides the yearly opportunity to gather industry experts and government officials to reinforce the importance of ongoing safety education and training."
Elected officials, safety experts, and industry representatives discussed the effectiveness of training to support successful safety programs across a broad spectrum of industries. National Forklift Safety Day raises awareness on the value of safety to those who produce, operate, and work on or around forklifts.
"ITA has been the voice of the industrial truck industry for more than half a century," said Brian Feehan, president of ITA.  "We understand there is a critical need for effective forklift operator training, and ITA's National Forklift Safety Day is meant to keep that discussion at the forefront year-after-year."
According to the Occupational Safety and Health Administration (OSHA), operator performance scores improved by 61 percent after completing forklift operator training.
In addition to the Washington, D.C., events, many ITA members and their dealers sponsored local forklift safety activities for their customers to enhance awareness of safe practices in warehouses, distribution centers, manufacturing plants, and other environments where forklifts are in use.
About ITA
For more than sixty-five years, the Industrial Truck Association has been the leading organization of industrial truck manufacturers and suppliers of component parts and accessories that conduct business in the United States, Canada and Mexico. Based in Washington, D.C., ITA maintains an influential voice in international standards development for the industry. The organization also advances engineering practices to promote safe products, disseminates statistical marketplace information, and provides industry forums for learning and networking.
For more information, visit http://www.indtrk.org.