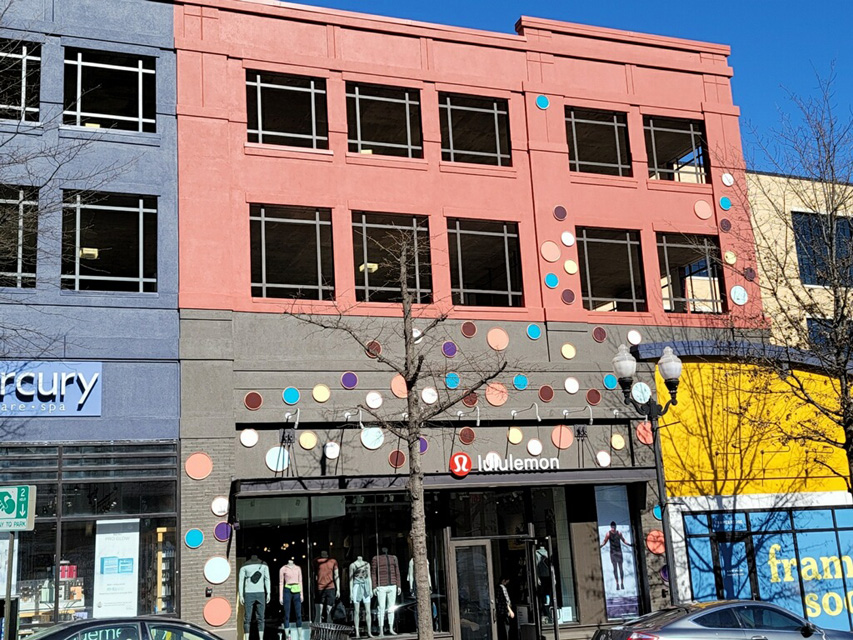 Mary Lou Goehrung is the president of Hunt Graphics, Inc. d/b/a Signs By Tomorrow – Rockville, a full-service sign center based in Rockville, Maryland. Her company loves doing jobs that are considered challenging, as well as tackling "unusual" types of jobs others might pass on doing.
In fact, a recent project that could be considered both "challenging" and "unique" for the exterior of a Lululemon athletic apparel retail store (titled "Dot Dot Dot…") earned Goehrung and her Signs By Tomorrow – Rockville sign center Grand Prize honors for the "Signs & Graphics" category in the 2020 Alliance Franchise Brands™ Project of the Year. This is an annual project-based contest open to all the franchisees under this umbrella.
(Note: Other centers selected as finalists in the 2020 Alliance Franchise Brands Project of the Year contest were Image 360 Tacoma (Owners RosaAnna and Alan Mednick) of Tacoma, Washington who installed 4,500 acrylic panels between slot machines at two different casinos without having the ability to drill into the machine themselves and Image 360 Vero Beach (Owners Angie and John Schepers) of Vero Beach, Florida who used experiential vinyl graphics to transform select space at a bar-and-grill into a sales office.)
This installation consisted of sixty-three shiny metal dots that were custom-painted glossy in seven alternating PMS colors. These dots, each housed in their own frame and attached directly to the Lululemon storefront, were created in two sizes—forty-eight of them are fourteen inches in diameter, while fifteen are twenty inches in diameter.
The sign company got involved with this project when the owner of this shopping strip wanted to "spruce up" and "grab attention" for the Lululemon store. "He hired a construction company, which, in turn, contacted us based on a referral, thanks to our twenty-nine-year solid reputation in the sign business," says Goehrung.
Signs By Tomorrow – Rockville is an award-winning women-owned sign company that started up in 1992. They are also a family operation, as Goehrung's son Scott is a mechanical engineer there, her son Glenn and his wife are graphic designers, and her grandson Tyler helps out in the installation department. Three generations are working together.
They currently have twelve team members on staff, and their production floor includes Zund and MultiCam routers, two eight-by-ten-foot Fujifilm flatbed printers, two laser cutters, a ten-foot HP latex printer, a half-dozen smaller latex HP printers, and a new Mutoh flatbed printer for printing ADA specific signs. "Our clientele ranges from individuals to big corporations—from banners to whole building signage inside and out," says Goehrung. "Our best marketing over the years has been our reputation for excellence in turnkey projects and customer service."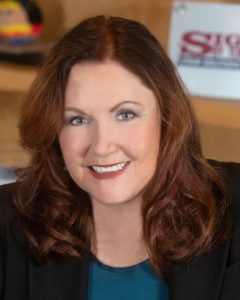 The general contractor provided Signs By Tomorrow – Rockville with the amount of dots needed for the storefront, their seven different colors, and their placement. Goehrung and her team refined this design further using Flexi software.
Signs By Tomorrow – Rockville partnered with Gemini for the actual production of these colorful dots, but they first had to determine the material that would work best here. "Because some of the dots were at pedestrian height, we had to make sure that they were vandal-proof and couldn't be picked apart," says Goehrung. "So we went with a solid stainless steel construction with a 1/2-inch relief."
Goehrung says that they painted all the dots with the glossy specific PMS color provided to them. "We painted all their frame edges copper to help further define the colors inside," says Goehrung.
The entire installation of these sixty-three dots took two days and involved four people. The dots that were easily reachable at the bottom of the storefront were affixed to the building through the use of ladders planted on the ground.
However there were several obstacles that prevented them from being able to simply use their bucket truck for the remaining higher dots—a narrow street and pedestrian sidewalk, overhead wires, shallow parking spaces, trees lining the area, and a difficult-to-avoid awning. This meant that the Signs By Tomorrow – Rockville team would have to rappel down the face of the building.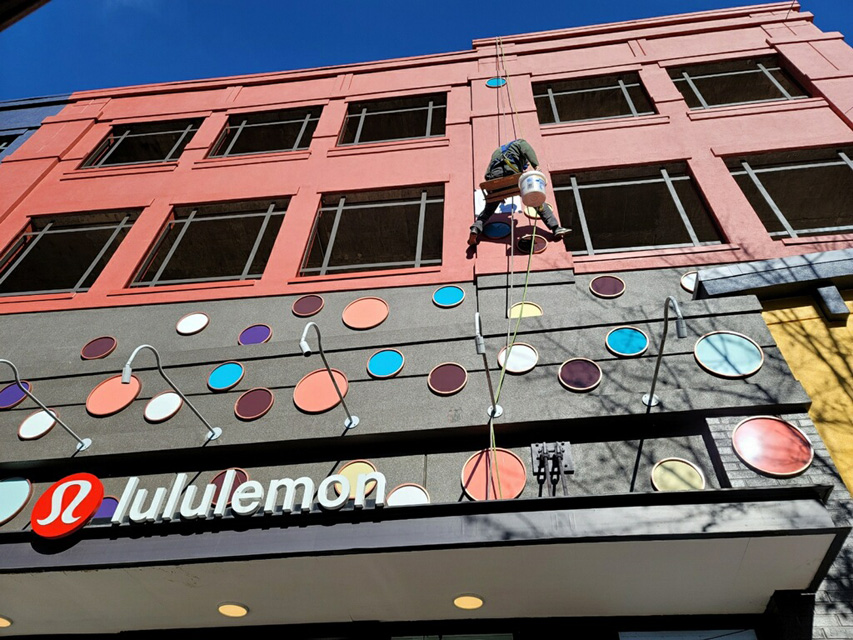 While the concept of rappelling for a sign installation can seem either adventurous or daunting (depending on your point of view), it's something that Goehrung's center has actually performed quite often when circumstances prevent them from using their bucket truck. In fact, they used rappelling techniques two years ago fittingly for signage work installed on the exterior of the International Spy Museum in Washington, D.C.
The Signs By Tomorrow – Rockville rappelling team is made up of insurable window washers. They tied off to the building anchor points and lowered themselves down using a chair rig. One team member was always positioned on the roof lowering the appropriately sized and correct-color dot one at a time inside a bag to the chair-sitting installer below.
"The [installer] only used one position and swung from left to right to reach the dots. They wore a tool belt to hold their install tools," explains Goehrung. "After completing the upper part of the building, he then ascended back to the roof."
Although the dots on the Lululemon storefront appear to be random, Goehrung says that they had to be placed exactly where the architect had plotted them. This involved coordinating and implementing ground communication to the aerial installers.
"The person located on the ground used cell phone communication and a large mockup panel showing the dots' locations to make sure everything was installed correctly," says Goehrung, noting they were given artistic and practical placement license for final dot location.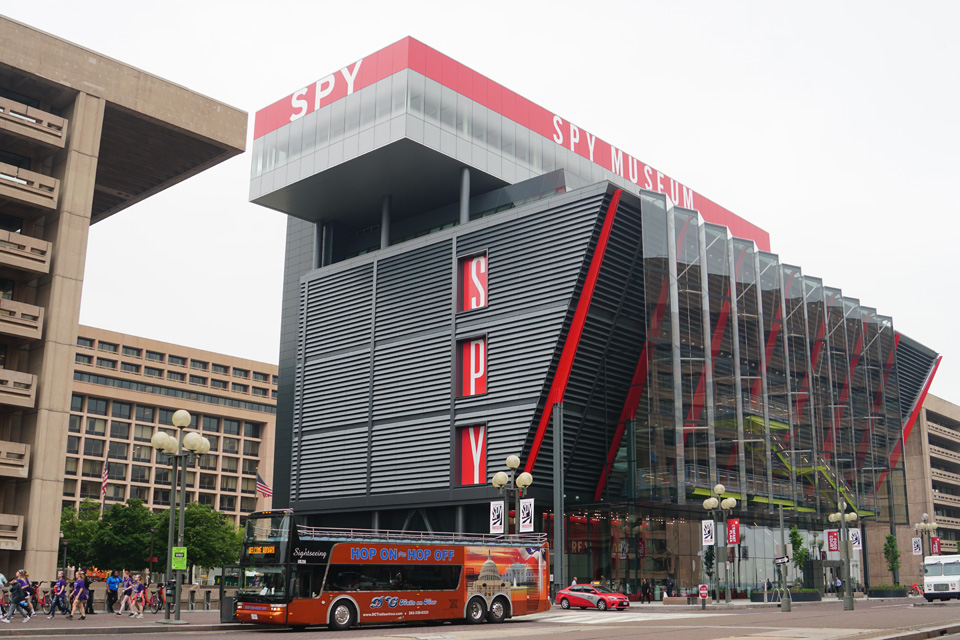 To attach the dots to the building's exterior, Signs By Tomorrow – Rockville first screwed standard metal studs into the back of each circle. Then using a standard drill and a template for each circle size, they drilled four holes for each dot into areas of soffit and brick into the building and firmly pushed the stud-mounted dots into them and sealed the holes with silicone. "We got the owner's permission before drilling, of course," says Goehrung.
Goehrung and her team of employees are honored to have been chosen as the winner of the 2020 Alliance Franchise Brands Project of the Year contest. "I am passionate about the sign business and continue to get excited about all the projects we work on both big and small," she says. "The sign business is a rewarding business because we are continually 'helping' people in many ways through signage every day.
"'Signs Rock!' especially here in Rockville at Signs By Tomorrow!"
—Jeff Wooten