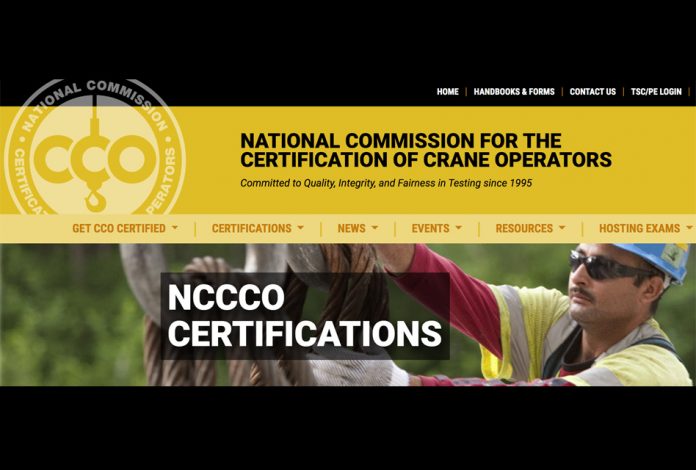 In response to numerous industry requests to serve the growing Spanish-speaking construction labor force, and in light of its twenty-fifth anniversary commitment to refine and evolve its safety mission, the National Commission for the Certification of Crane Operators (NCCCO) is making available its CCO Mobile Crane Operator written certification exams in Spanish. The announcement came today (March 11) at the once-every-three-years CONEXPO/CON-AGG, North America's largest construction trade show.
In compliance with both ANSI accreditation and OSHA Subpart CC regulations, NCCCO is releasing written exams of its flagship mobile crane operator certification program in Spanish. The Spanish-language CCO exams are direct translations of the English-language exams, based on identical content outlines and containing the same number of questions. All exam parameters are the same as the English-language exams, including length of time permitted and passing score required.
First to be made available are the mobile crane operator Core exam along with the Telescopic Boom Crane (Fixed Cab), Telescopic Boom Crane (Swing Cab), and Lattice Boom Crawler Crane (LBC) Specialty exams. All load charts (Manitex Boom Truck, Grove Rough Terrain, and Manitowoc, respectively) are provided in Spanish. NCCCO has also made available an English-Spanish glossary of crane-specific terminology used in the exams to assist candidates and the training community as they prepare candidates for the certification exams.
For more information and access to all candidate and reference materials, provided in both English and Spanish, go to nccco.org/Spanish. Spanish-language exams are initially only available as paper/pencil tests; computer-based tests will be released at a later date. Test administrations can be scheduled immediately using the forms at nccco.org/Spanish.
This announcement has no impact on the practical exam(s) required for CCO certification, although NCCCO is considering developing additional Spanish language resources.
Bilingual Expert Panel
Release of the Spanish-language CCO exams marks years of development work by NCCCO's Spanish Technical Review Group. This panel of bilingual crane experts assisted in the process of crafting the language to ensure only "operator terminology" was used and was careful to follow international standards on the process of translating certification exams. "NCCCO is committed to maintaining the same standard for all its candidates, whether they are English-speaking or Spanish-speaking," noted NCCCO Director of Certification & Credentialing Bob Mahlman.
Next up, the group plans to develop Spanish language testing for the articulating crane operator program, reflecting the increasing popularity of knuckleboom cranes on today's construction sites.
Assists with OSHA Compliance
The new Spanish-language exams are likely to provide valuable assistance to employers desiring to ensure their Spanish-speaking operators meet the OSHA 1926 CFR Subpart CC crane operator certification requirement. The OSHA crane rule allows for tests to be administered in any language the operator candidate understands, but it requires the certification card indicate the language the test was given in.
Employers must understand, however, what their obligations are for using certified operators who have tested in Spanish. According to OSHA 1926.147(h)(2), "The operator is only permitted to operate equipment that is furnished with materials required by this subpart, such as operations manuals and load charts, that are written in the language of the certification." Further, according to OSHA 1926.1421(c), "The operator, signal person and lift director (if there is one), must be able to effectively communicate in the language used."
For further information on Spanish-language CCO exams go to nccco.org/Spanish.