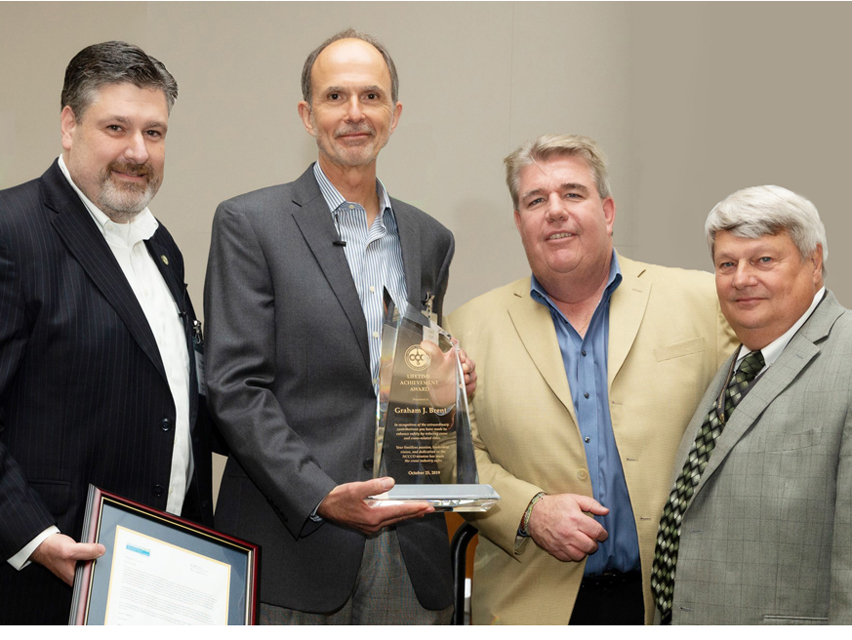 The National Commission for the Certification of Crane Operators (NCCCO) has awarded its inaugural Lifetime Achievement Award to its founding CEO, Graham Brent. Brent, who recently stepped down from NCCCO to lead the NCCCO Foundation, had served as the organization's chief executive since 1996. The award was presented at the 4th Industry Forum on Personnel Qualifications last month in Crosby (Houston), Texas, by Thom Sicklesteel, who took up the position of CEO of NCCCO on July 1.
"I'm humbled and deeply honored to receive this award," said Brent. "The progress we have made over almost twenty-five years in improving worksite safety through NCCCO certification is profound and is a tribute to the tireless efforts of our dedicated and committed industry experts that have been with us throughout the journey. I feel privileged to have had the opportunity to contribute to this initiative which we now know conclusively has saved lives and avoided the pain and heartbreak of injury for so many."
"It's a great pleasure to be able to award our very first NCCCO Lifetime Achievement Award to one person who has been associated with NCCCO from the very beginning," said NCCCO President Kerry Hulse, who chaired the original task force that led to the creation of NCCCO in 1995.
IUOE General President James T. Callahan commented, "Graham's fingerprints are all over the success of NCCCO, much of which is due to his tireless work in bringing all parties, labor and non-labor, to the table with a lot of different viewpoints but all with the same safety goal in mind."
From the certification community, Dr. Roy Swift, former head of personnel certification accreditation services at ANSI and now Executive Director at WorkCred, lauded Graham Brent as "a change agent" not only for the construction industry, but for the certification community at large. "It would be difficult to find someone in the certification community who is more dynamic, innovative, and devoted to quality," Swift said in a written letter of support. "You are a pioneer who is never afraid to venture into the wilderness of certifications in federal and state regulations. I know there are many people who join me in saying kudos on your extraordinary work and job well done."
In thanking Brent for his contributions to NCCCO, Sicklesteel commented that this was an appropriate point in NCCCO's development to create a Lifetime Achievement Award. "Given the success of NCCCO certification and the closing of an important chapter in regulatory development with the publication last year of the OSHA crane operator qualifications rule, this is the right time to start recognizing individuals who have paid a lifetime commitment that has impacted our industry for the better," he said.
The National Commission for the Certification of Crane Operators (NCCCO) was formed in 1995 as an independent, non-profit organization by industry to develop and administer a nationwide program for the certification of crane operators and related personnel. Since then, NCCCO has administered over 1.2 million written and practical examinations, and issued more than 425,000 ANSI-accredited and OSHA-compliant certifications. For all the latest NCCCO news, follow @NCCCOorg on Twitter.