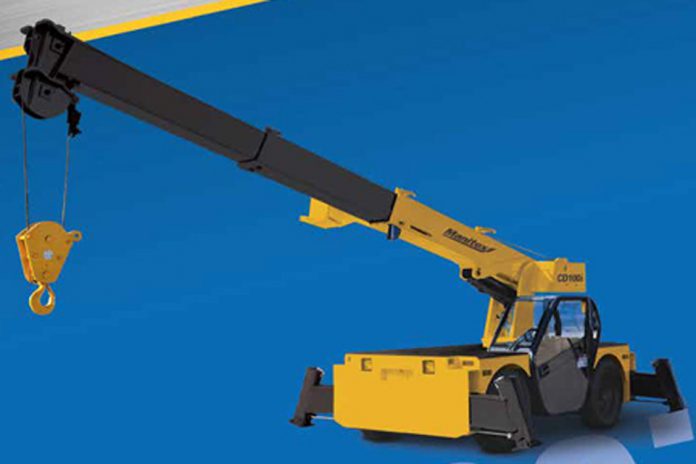 Manitex International, Inc., a leading international provider of truck and articulating cranes, has announced the expansion of its industrial crane line with the addition of the Manitex CD110 industrial carry deck crane.
The CD110 Industrial carry deck crane provides eleven-ton base rated capacity, thirty-five-foot three-section boom, and fifty-three-foot maximum reach when equipped with optional jib. This machine fits the needs of refineries and manufacturing facilities with its versatility and strength. Along with the CD110, Manitex's strong line of industrial cranes includes models ranging in capacity from ten to thirty tons.
George "Beau" Pocock, Industrial Sales Manager for Manitex, commented, "We are excited to introduce the new eleven-ton machine to the market. The CD110 is designed around input from rental fleet owners to suit refineries and petrochemical applications. This model's compact design is also well suited for work in manufacturing maintenance and retooling projects. With thirty-five feet of boom, excellent on rubber capacities, along with two-position out/down outrigger configurations, this unit offers best in class load chart while remaining simple to use and cost effective."
Manitex International, Inc., is a leading worldwide provider of highly engineered specialized equipment including boom trucks, cranes, and other related industrial equipment. The company's products, which are manufactured in facilities located in the USA and Europe, are targeted to selected niche markets where their unique designs and engineering excellence fill the needs of our customers and provide a competitive advantage. They have consistently added to their portfolio of branded products and equipment both through internal development and focused acquisitions to diversify and expand our sales and profit base while remaining committed to our niche market strategy. The company's brands include Manitex, PM, Badger, Sabre, and Valla.
For more information, visit www.manitex.com.