Manitex International, Inc., a leading international provider of cranes and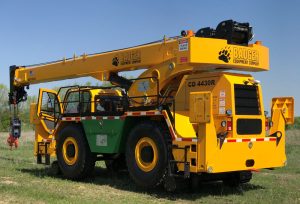 specialized industrial equipment, today announces product updates and improvements to the CD4430R rough terrain rail crane.
The Manitex CD4430R offers a thirty ton capacity, and a two section, fifty-three foot formed boom with integrated rail gear system. The CD4430R has been updated with a Cummins B6.7 Liter 325HP Tier 4 stage 5 engine providing up to date emissions with improved performance and ease of maintenance.
An all-new intuitive touch screen display offers improved operator interface. This machine is also specifically designed for the high demands of the rail industry in extreme conditions.
"Manitex is excited to announce new product enhancements to this rugged machine to keep up with the needs of the rail market with new improvements based on customer input. Manitex strives to meet the needs of our customers in the field, improving productivity and reliability," said George "Beau" Pocock, Industrial Sales Manager for Manitex International, Inc.
Manitex International, Inc. is a leading worldwide provider of highly engineered mobile cranes (truck-mounted straight-mast and knuckle boom cranes, industrial cranes, rough terrain cranes, and railroad cranes), truck-mounted aerial work platforms and specialized industrial equipment. Our products, which are manufactured in facilities located in the USA and Europe, are targeted to selected niche markets where their unique designs and engineering excellence fill the needs of our customers and provide a competitive advantage.  We have consistently added to our portfolio of branded products and equipment both through internal development and focused acquisitions to diversify and expand our sales and profit base while remaining committed to our niche market strategy. Our brands include Manitex, PM, Oil & Steel, Badger, Sabre, and Valla.  The company also has a minority ownership in ASV Holdings, Inc. which manufactures and sells a line of high-quality compact track and skid steer loaders.