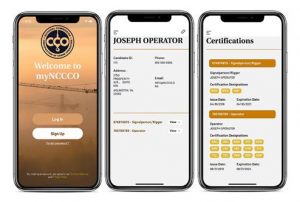 The National Commission for the Certification of Crane Operators (NCCCO) has released its new myNCCCO mobile app for Apple iPhones and Android devices. The myNCCCO app is free and provides a way for NCCCO's over 100,000 current certificants to see their certifications and expiration dates, update their contact information, and view the latest NCCCO news.
There is also a companion myNCCCO Web site at nccco.org/mynccco that is accessible from desktop computers and tablets and provides similar functionality and information as the app.
The announcement of the new myNCCCO app came at the once-every-three-years CONEXPO/CON-AGG being held this week at the Las Vegas Convention Center. With OSHA's operator certification requirements in effect, NCCCO wanted to provide an easy way for certified individuals to access their credentials in real time. NCCCO staff and volunteers are on hand at CONEXPO to help any CCO-certified attendees download the app and register to use it.
Current CCO certificants are encouraged to go to their device's app store and search for "myNCCCO" or use the links on the myNCCCO website to download the app. Once the app is installed on their device, they can create an account. Once connected, certificants can access their personal information, including changing their mailing address, phone number, and/or email address. They can also see their current certifications and their expiration dates. To register, certified individuals will need to provide their certification number and date of birth; a unique email address is also required. If certificants hold multiple certifications, all of them will populate with a single registration.
Currently myNCCCO is a version 1.0 release, but many future enhancements to the app are under consideration and/or planned. Users are encouraged to leave feedback and/or suggestions for improvements in the app store where they downloaded their app or by emailing [email protected].
—Press Release