When it comes to installing or repairing above-ground-level signs or vertical-oriented pylons, an articulating boom truck or a telescoping aerial work platform (AWP) are most likely going to be an essential part of your equipment portfolio. Whether you're renting, leasing, or outright owning, these service vehicles are vital in making sure your workers are able to reach those up-in-the-air jobs.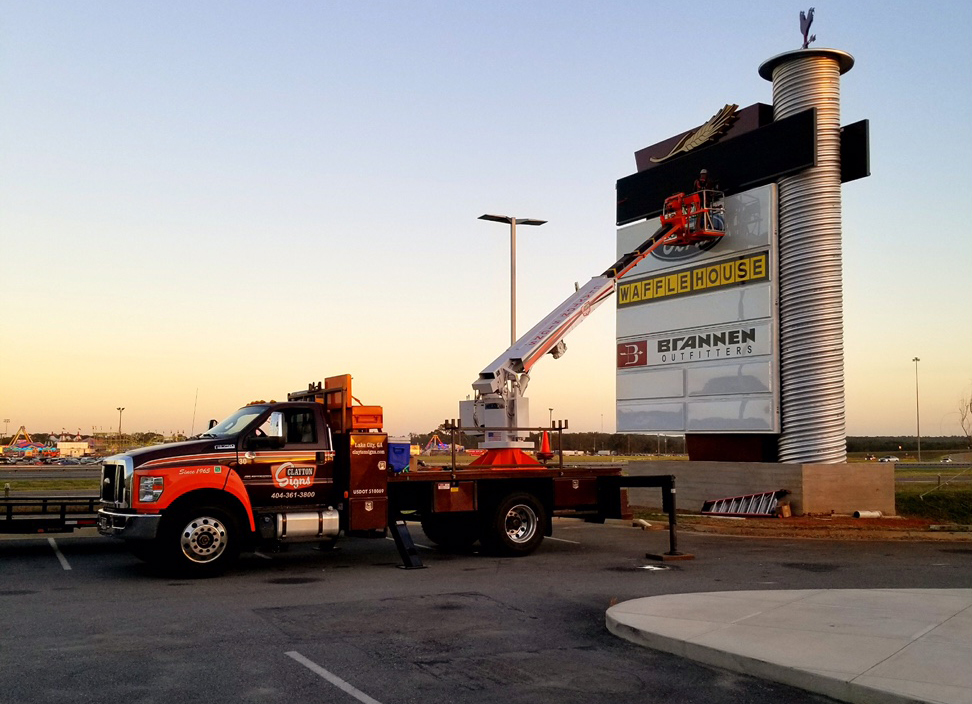 This month, Sign Builder Illustrated asked manufacturers to present their best advice for making sure installers stay safe when using these types of service vehicles.
It's first important to understand the advantages (and disadvantages) of these two types of personnel lifts, as well as the types of jobs they're best suited.
"An articulated bucket truck can get into certain tight areas (such as between power lines), since it is electrically insulated," explains Jim Glazer, president of Elliott Equipment, noting that these vehicles however feature limited or no material handling capabilities, limited tool circuits in the bucket, and limited side reach due to its elbow.
Bryan Wilkerson, vice president of Wilkie Mfg., LLC, says that bucket trucks offer an advantage if working near or around energized electrical areas (at an OSHA-required distance from power lines). "If someone is using an insulated bucket, there is a dielcetric test that must be preformed yearly by a certified inspector to comply with OSHA 1910.67 (c)(3) and ANSI A92.2 – 2001, Section 5 along with their normal annual OSHA inspection A," he says.
It mainly comes down to side reach, which Wilkerson says is important in the sign industry since signs are normally located in the middle of landscaping or over a sidewalk area. This is usually limited in an elbow-type bucket. "But if you're working in very confined spaces such as alleyways where the equipment is right next to the truck, a elbow bucket would be at an advantage, as they have a shorter swing radius," he states.
When it comes to a telescopic AWP (also known as a straight mast boom lift), Glazer notes these platforms feature a point-and-shoot design that maximizes side reach, a larger platform size for tools and workers, an auto-leveling platform, and main boom and platform material-handling capabilities. "However they are generally not insulated, nor can they lift as much as a truck-mounted crane," he says.
Whichever personnel-lifting device you employ, both Glazer and Wilkerson stress that before operation, the sign installer must be properly trained and (if applicable) certified to use it. "Note that, prior to lifting people with a boom truck, OSHA requires users perform a trial lift and proof test to ensure the machine's structural integrity and stability," adds Glazer.
Be aware that aerial work platforms are certified to ANSI A92.2 while boom trucks (and cranes) are certified to ASME B30.5. "The stability factors of ANSI A92.2 are more stringent than ASME B30.5," says Glazer, "but if the machine is properly set up, the user will not notice any difference."
As far as preparation advice goes, Glazer stresses the importance of developing a pre-lift plan to help anticipate any issues that may arise on-site during the operation. "Make sure you're familiar with your machine's load and range charts and know where you're going and what you'll be lifting," he says. "Once you have a plan developed, perform a thorough walk-around inspection of your machine to ensure it is in proper condition before you begin work."
Wilkerson adds to make sure you have all the tools and supplies that you need to get the job done, in order to eliminate unnecessary trips up and down and back to the shop. He also stresses to check your plans to make sure the dimensions are correct and that the location and direction that the sign will be facing are also correct. "Let any construction personnel working in the same area know your plans and the steps you're going to be taking," he remarks.
Work involving lifting equipment always needs to begin with proper lock out tag out operations.
"Since a large portion of sign installs are in conjunction with new construction, familiarize yourself with the job site to ensure that the power is disconnected to the area that you will be working in and that the area will not become energized while the work is being performed," says Wilkerson. "There have been cases of signs or lighting being re-energized while aerial work is being performed because a photocell, timer, or electrical short turns back on after it was thought that there was no power."
Look up for any obstacles that will interfere with safe operation of the equipment—electric lines, telephone lines, building protrusions, etc. "Also pay attention to any insect nests in your work area," advises Wilkerson. "Hornet and bee nests are never fun to encounter while on an elevated platform."
All personal protection equipment must be put on before any worker goes up on boom or platform. "This includes fall protection such as a safety harness and lanyard, a hard hat, safety glasses, gloves, etc.," says Wilkerson.
Glazer cautions that operating a bucket truck or AWP in a heavy traffic area increases the risk on a job but can still be done safely with proper planning and situational awareness. "Operators should try to perform these jobs when traffic is at its lightest and be set up as close to the work and as far from the road as possible," he says. "Make sure you have your site adequately demarcated to ensure it is clear of traffic, bystanders, passers-by, and the like. Use cones, conspicuity decals, signal men, and/or lighting to maximize the visibility of the machine to oncoming traffic."
If signage is being installed on sloped areas, ensure that the vehicle is set up level and on a firm foundation. Wilkerson says to always use pads or cribbage to level the boom truck or AWP with the outriggers. "If the equipment is not equipped with outriggers, you may have to use blocks or ramps to level the truck to avoid an over-the-center gravity situation, which can cause a roll over or an unsafe situation," he advises. "Also be sure that the wheels are properly chocked to prevent vehicle movement."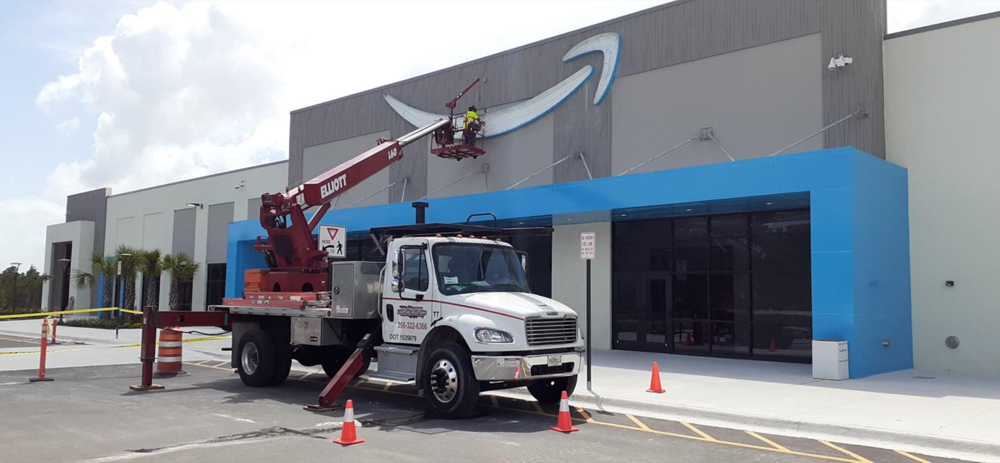 In today's COVID-19 world, Wilkerson says it is important to follow CDC guidelines and use appropriate precautions, such as wearing a mask when interacting with clients on the job site.
"Make sure you have hand sanitizer on the truck since there may not be a place readily available on the job site to wash your hands," he says. "I know of some companies that have gone to one occupant per vehicle in all company vehicles to encourage social distancing.
"Most of the time, the aerial equipment operator is working alone, and if you are up in the air, you cannot get much more socially distant than that."
Wilkerson says it's always a good idea to check with local municipalities ahead of time to see if there are any additional considerations to keep in mind. "I have heard of a couple of municipalities that were requiring mask and or face shields to any workers that are working," he says.
As far as news and trends, Glazer states that, in the interest of the "environment and safety," certain localities in New York and California are implementing regulations that will require users to retire machines once they reach a specified age.
Finally Wilkerson points out that OSHA is scheduled to ramp up inspections of aerial equipment in the coming months and that owners and operators need to be prepared for this.
By Jeff Wooten
Photos (top to bottom): Wilkie Mfg, Elliott Equipment.