By Jeff Wooten
The home office-and-showroom of Fletcher Construction in Stafford, Virginia is located along a curved section of a busy commuter route on the way to Washington, D.C. However the small monument sign they had been using next to their building for quite some time was set back from the road and not exactly grabbing the attention of passing drivers.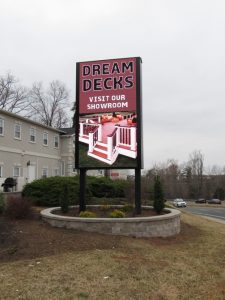 Not only was this a problem for the award-winning exterior home improvement contractor but also for the various dental and medical practices they lease space to in their multi-tenant commercial building; there was a need to promote those business as well.
Matt Fletcher, owner of Fletcher Construction, contacted full-service custom sign manufacturer Sign Enterprise of Fredericksburg, Virginia to solve his signage problem.
Fletcher's original intent was another static monument sign featuring his construction company's logo at the top and his list of tenants at the bottom.
However, when Jonathan Dabney, senior vice president of Corporate and Retail Accounts at Sign Enterprise, checked out Fletcher's location on Google Maps and noticed that their sign was not only far from the road but also difficult to read, he suggested a digital sign instead. "I've been in that area for years, so I know the value of getting clients out in front of the public there," says Dabney.
When Dabney discussed not only the visibility that a digital sign delivers but also the ease and flexibility of changing messages on it, Fletcher was sold.
Fletcher decided to have Sign Enterprise install a new double-sided, 13-foot-4-inch-by-8-foot 10mm Watchfire sign that's vertically mounted. (Note: Sign Enterprises has worked with Watchfire for many years, and Dabney himself has even specified hundreds of digital signs in the region.)
This unique orientation is something that definitely grabs the attention of passing traffic.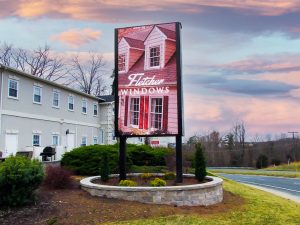 In fact, this solution came to mind when Dabney and the local Watchfire representative visited Fletcher's property. They figured that a vertical orientation would give Fletcher a better aspect ratio and provide a better picture orientation than could be shown on a rectangular sign.
"We find people pay more attention to a sign that is vertical," says Dabney. "It really does catch your attention when you drive by it."
Dabney says that one of the reasons a 10mm resolution was chosen for this project is because most people today are already familiar with high-definition television sets and are wary of any pixelation on displays. "Most of what we sell are 10mm and tighter resolution at this point," he says. "For customers who want to show detailed content for traffic that is close to their location, higher resolutions work great."
The production process for Sign Enterprise went as normal—permitting, ordering the display from Watchfire, and fabricating its housing structure out of steel.
However, due to the size of the sign, installation didn't prove as typical. "We had a dedicated truck that brought the huge display directly to the site, and we off-loaded it on that wonderful curved road," says Dabney, noting they also had to dodge power lines overhead. "We even had to block off a lane of traffic while it was being off-loaded."
Since his business is a construction firm, Fletcher built the masonry surround and then planted trees at the base of the sign.
Fletcher controls the content on the digital display with Watchfire's OPx software. "This one can actually be segmented," says Dabney. "They can provide a panel about themselves as well as panels featuring information about his tenants in the building.
"For instance, he can be running 'Fletcher Decks' at the very top of it, and the bottom section of the sign could be designated to the dental firm that is on the property."
The new Watchfire digital sign is estimated to deliver 5.7 million exposures per year to passing traffic, and Fletcher is very, very happy with these results.
The high-resolution sign allows Fletcher Construction to promote specials and highlight the company's various services using beautiful photography. He also runs messages for his tenants and posts messages of support for our troops.
And there's no doubt that the new digital sign is driving business.
"Since we put up the new sign, I've had people stop into the showroom and tell me they didn't even know we were here," says Fletcher. "I even had someone stop in because she was planning to build a screen porch addition, and she saw on our sign that we do screen porches.
Fletcher has even found that, after putting up the digital display, a number of people with whom he has done business did not realize the variety of services he offers until he started promoting "decks, roofing, windows, etc., on the sign
Dabney and his sign company have also benefitted greatly from being able to offer digital displays to their clients.
"We do our best to provide our customers with a sign that's going to help their businesses," he says. "They can see that these displays will [do so] tremendously and, many times, will go forward with us because of that."