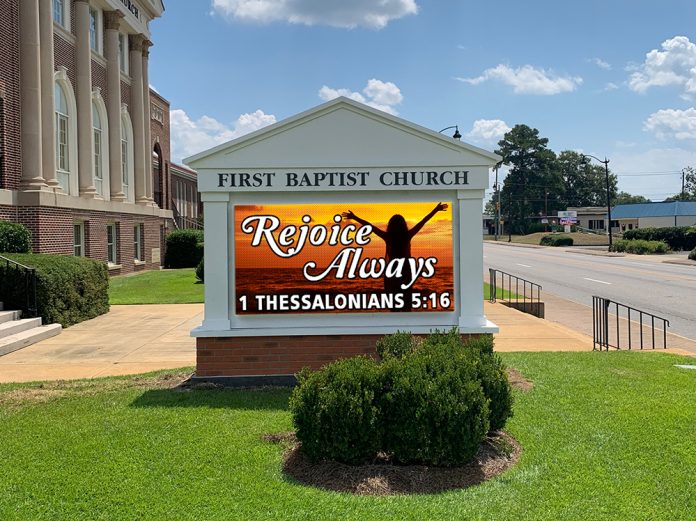 By Ashley Bray
It can be difficult to fully break down the best markets for digital signage because, really, any market can find value in this dynamic signage type. "If you have something to sell, and you have a road where people are driving by, there's no industry that couldn't benefit from it. It's just a matter of educating and getting them to see the value," says Justin Holland, co-founder and vice president of Sales and Marketing for Complete Signs in Dothan, Alabama, which was founded in 1999.
Digital signage is a powerful way for a business to speak directly to its audience, and for this reason, it's an indispensable branding, informative, and sales tool all rolled into one. "It legitimately can 100 percent help most any business that has good traffic count speak to their audience and help their audience understand what they offer when there's so many preconceived notions," says Holland. "If it's an eye doctor, you think you just go there for eye exams, but you have no idea they have a whole spa in the back and sell 300 different sunglasses.
"You can break all these preconceived notions when you can speak to your audience, so it's just so much fun to help businesses truly do that and then to see them reap the benefits from it."
Holland says he's found many digital sign customers in the following businesses and markets:
Banks/credit unions
Car dealerships
Casinos
Churches
Doctor's/Dentist's offices
Restaurants
Schools
Veterinarian clinics
It can be tempting to go for the bigger clients, like casinos and car dealers, who have larger advertising budgets. But Holland cautions these clients can be more difficult to start a relationship with.
On the other hand, Holland has had a lot of success with small businesses, like regional banks and credit unions. "We have a lot of little regional banks we work with, and they love digital signs," he says.
He also mentions other markets where digital signage is starting to grow in popularity. "Real estate is a big one," he says. "And right now, we've seen a nice trend with car washes and self-storage places."
Let's take a closer look at a few of these markets.
Banks/Credit Unions 
Digital signage in banks serves to inform as well as entertain customers and reduce perceived wait times.
This type of signage can be found both inside and out, and it also plays a role in branding the bank or credit union. According to digital signage provider Scala, studies show that when a bank branch features digital signage, 87% of customers say the bank is trustworthy and 90% say their bank is experienced.
Churches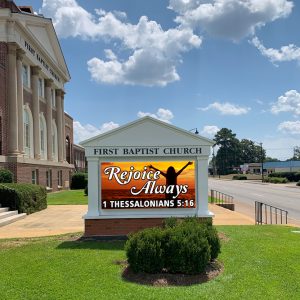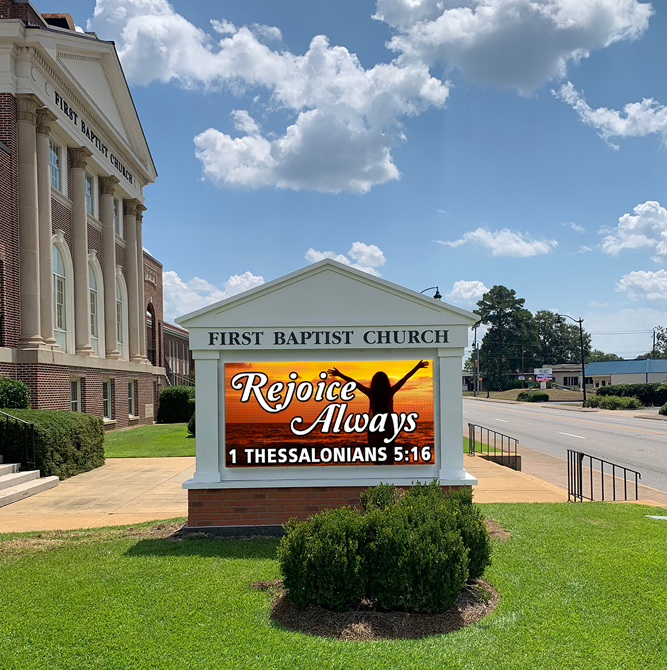 Digital signage at houses of worship are all about fostering community and informing church members. Outdoor digital signage can also be used to make the church more visible to the community and attract more members.
Digital signage helps to modernize churches and move them away from the use of paper handouts and static displays like bulletin boards to a more dynamic way of displaying information. In fact, according to digital signage provider Mvix, churches can spend up to $6,500 in annual photocopying, paper, and print costs. Digital signage reduces this cost by 76%.
Many churches also make the jump from projectors to digital signage for a more reliable, visually striking method of presentation.
Schools
Educational settings greatly benefit from the use of digital signage in the learning process as well as in keeping students and staff informed. According to Mvix, 73% of learning institutions view digital signage as a vital element in the future of communication.
The use of digital scoreboards in sports stadiums and gyms is also a popular application in this market.