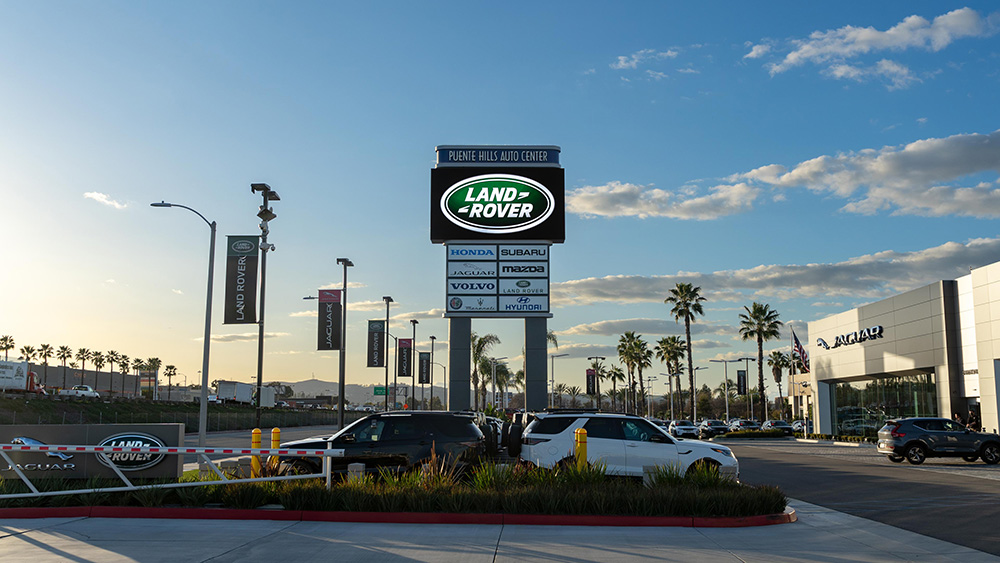 A large, dual-faced digital pylon for the Puente Hills Auto Center, a group of car dealerships in the Puente Hills area east of Los Angeles, was upgraded with EMPIRE™ Exterior LED display technology from SNA Displays.
The digital pylon enjoys long read times from both east and westbound lanes of Pomona Freeway (Route 60). It features digital-out-of-home (DOOH) content, with a heavy focus on car brands within the auto center such as Maserati, Alfa Romeo, Land Rover, Jaguar, and more.
Electra-Media, Inc. (EMI), which managed and serviced the auto center's original freeway structure more than 15 years ago, oversaw the digital enhancement project, selecting a 16mm pixel pitch for the new double-faced LED billboard.
For the upgrade, EMI secured 100 percent funding from the City of Industry to complete a full revamp of the sign with new, state-of-the-art SNA Displays LED technology, redesigned and modernized brand panels, and a total structure repaint, without any foundational changes.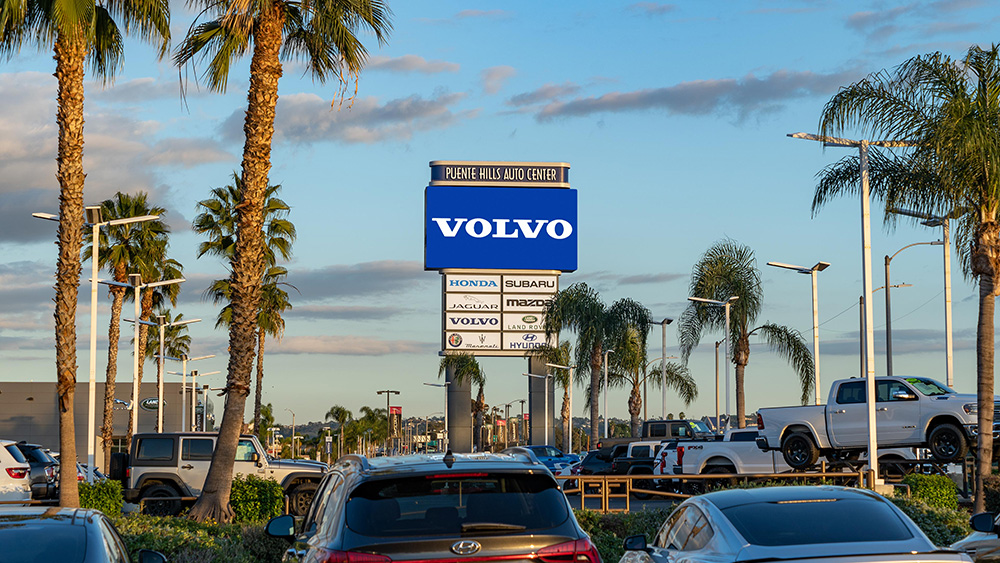 "Puente Hills Auto Center is the perfect example of how proper upkeep every seven to ten years can expand the lifetime of your sign indefinitely and keep your greatest advertising asset generating revenue for your business for years to come," said Rod Wilson, chief executive officer at EMI.
Both LED display faces are 19-feet-8-inches-high-by-36-feet-9-inches-wide, processing a total of 525,000 pixels. The upgraded digital pylon also includes new LED channel lettering and a series of illuminated tenant cabinets for dealerships within the auto center.
"It's more important than ever for digital billboard owners, particularly those located close to busy highways, to upgrade their display technology to improve the clarity and quality of their message," said Raymond Jonathan, project manager at SNA Displays. "Whether it's a technology refresh or a new installation, we approach each job with the mindset of ensuring our client gets the most from their video display investment."
Blake Sign Company provided sign installation services.
Puente Hills Auto Center Video Overview
—Press Release