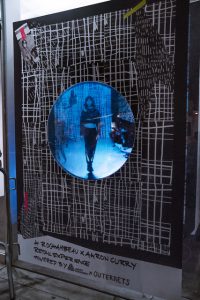 Just five days after their collaboration with Rochambeau and Aaron Curry at the New Museum, NYC, Avery Dennison and Outernets partner again to create the "future of window shopping" experience, to be revealed this week at Shop.org in Las Vegas. As the visitors of shop.org approach the glass installation they will be drawn into an immersive and interactive experience with two fashion brands—Rochambeau and West Carolina—which will enable them to discover, try on and share images of themselves with pieces of the apparel collections.
The innovative installation reveals the benefit of combining Outernets' Operating System for interactive media with Avery Dennison Vela™ switchable film, based on Gauzy technology, to retrofit store windows and create instagrammable branded experiences, capturing the attention of their consumers passing by on the street, within the shopping mall, or in store.
Outernets will also present different experiences such as fashion and Vegas-inspired AR experiences that will create fun shareable images to social media, product customization, and more.
Visit Avery Dennison and Outernets at Booth IL8 – Shop.Org
In 2018, Avery Dennison launched a dynamic display window advertising system called Vela Dynamic System, which is a turnkey platform for digital advertising solution based on technology developed by Gauzy, one of a number of innovative startups Avery Dennison has invested in over the last couple of years. This system helps attract more customers by transforming store windows into eye-catching, switch-on-switch-off advertising media that projects campaigns, promotional offers and personal content, changing the message throughout the day with time and location-based videos and images. Vela Dynamic System is transparent when not in use, retaining in-store visibility and sales opportunities. When combined with innovative experience technology from the Avery Dennison partner network, Vela dynamic technology offers retailers the flexibility to combine traditional merchandising with innovative digital advertising, creating truly engaging content for the consumer.
To learn more about Avery Dennison Vela Technology, visit HERE.
Avery Dennison and Outernets partner together to create immersive consumer experiences. The Outernets' operating system makes Vela switchable film even more powerful, infusing the technology with web capabilities, such as interactivity, data collection, content personalization and more.  With Outernets, Vela technology is capable of displaying an enormous range of content, personal and contextual, from images, videos and HTML5 applications, to immersive 360 videos, augmented reality, virtual reality and with the potential to offer true "window-shopping" to allow retailers stay open 24/7 all year long.
To learn more about Outernets, visit http://outernets.co.