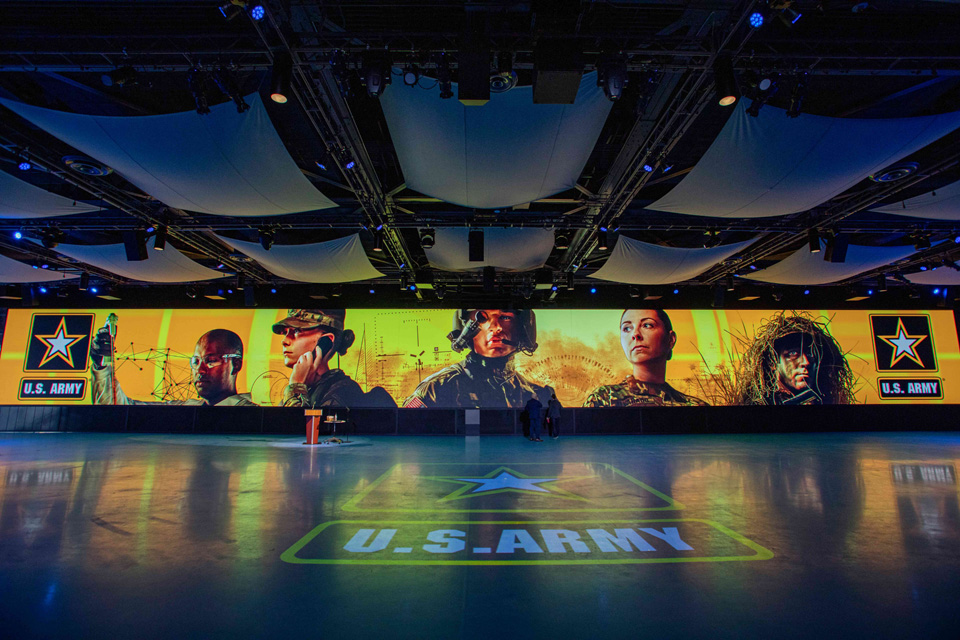 Conmy Hall, the historic events space used by the United States Government, recently underwent a significant transformation with the installation a massive 144-by-14-foot Christie® CorePlus LED wall. Spearheaded by The Bridge Group and integrated and installed by Quince Imaging, the video wall is powered by a Christie Spyder X80 image processor with content management handled by a suite of Christie Pandoras Box solutions.
"Conmy Hall was originally built in 1934 as an indoor equestrian facility used by General George Patton," says Cathy Arevian, CEO & Managing Director, The Bridge Group.
"But as the mounted cavalry was phased out, the Hall was converted into a gymnasium and later into an indoor ceremonial area. It's now the U.S. Army's principal performance center, used for Presidential functions and military ceremonies, as well as hosting multi-agency briefings and strategy sessions. The Hall, which seats 1,200, also hosts U.S. Army band concerts and productions by the Military District of Washington, both of which are open to the public.
Prior to the renovation, the space used two projection screens and large, vinyl-printed maps for multi-agency briefings and strategy sessions. "The equipment and processes became inadequate given the expanding needs and advancements in technology," says Arevian. "After conducting several events using large format rental equipment and projection, it became clear that the versatility available using this equipment was worth the investment."
In 2015, the project began, and various technology and configurations were considered. "We knew It had to be state-of-the-art, and configurable to meet the changing needs of the space," says Scott Williams, COO, CFO and Co-Founder, Quince Imaging.
The Bridge Group, Quince Imaging and project manager VCB Events LLC designed and installed a massive 144-by-14-foot, 12-million- pixel Christie CorePlus LED video wall that spans the length of the venue. The wall is divided into three sections: a center twenty-six-foot array, with a sixty-one-foot array on each side. The center array is a pull-out entryway that is suspended on a trolley, which can be retracted with the push of a button.
Christie Pandoras Box and Spyder X80 Manage 12 million Pixels
Managing the Christie CorePlus LED video wall are two Christie Pandoras Box servers and one Pandoras Box manager. "Pandoras Box is managing the uber-wide, 12-million-pixel wall. It also manages the buttons, and houses the wireframes and templates, so a user can easily select one of a dozen looks for the wall," says Williams. "We used Pandoras Box Widget Designer to configure these solutions."
"We have a long history of success with Pandoras Box," adds Williams. "Every sports installation that we've done since 2013, that we're known for, has been a Pandoras Box system. We can easily manage them remotely and the users understand the workflow. It's proven to be a robust broadcast, workflow solution. Why would we ever consider anything else that has worked flawlessly in all of our installations?"
Christie Spyder X80, a powerful multi-windowing processor that can manage up to 80 million pixels, manages the inputs from Pandoras Box, the output to the LED wall, as well as sending return feeds to HD broadcast trucks. "We chose Spyder X80 because of the massive resolution of the wall. It also manages other displays at the facility, as well as camera inputs," says Williams. "The Army has a HD truck that comes in on short notice, and they wanted a plug-in solution to augment the production capabilities in the building."
The Bridge Group and Quince Imaging Deliver a Stunning Installation
"The result is a magnificent, completely configurable, and versatile LED display that delivers an immersive experience, and provides an amazing backdrop for the military ceremonies," says Arevian. "The client is impressed with the clarity and sharpness of the images and the ability to have many standard templates pre-programmed and ready to go at a moment's notice."
"The customer is elated," says Williams. "And we're subsequently part of a team providing ongoing services and support. They're very pleased."
"Quince Imaging and The Bridge Group have designed and installed an incredible solution that will serve Conmy Hall and the US Army well for many years to come," says Jon Litt, senior manager, Christie Government Solutions. "We are so proud and honored to have Christie solutions included at this historic site and to be able to be used for such significant events."
For more information about Christie, visit www.christiedigital.com
—Press Release
Disclaimer: This press release is neither paid for nor sponsored, in whole or in part, by any element of the United States Government.