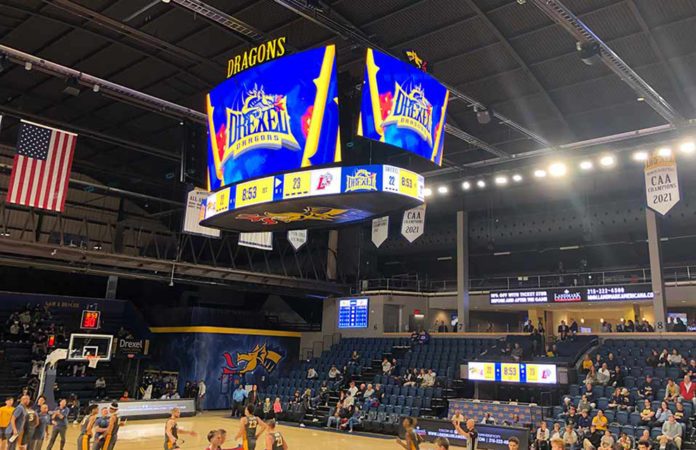 Daktronics of Brookings, South Dakota, has partnered with Drexel University to manufacture and install twenty-two new LED displays and indoor audio system at their Daskalakis Athletic Center on campus in Philadelphia, Pennsylvania, a venue that hosts men's basketball, women's basketball, and wrestling events.
The installation, which features a five-display centerhung system, was completed ahead of the 2022 winter sports season.
"We were excited to continue our partnership with Daktronics when we added our new videoboard," said Drexel Director of Athletics Maisha Kelly. "Daktronics is an industry leader in audiovisual systems and has provided Drexel with state-of-the-art video boards and sound systems in both the Daskalakis Athletic Center and at Vidas Field.
"The DAC renovations have made an immediate impact on our home events. Our in-game experience that our student-athletes and fans have at the DAC has improved exponentially. Game day at a Drexel athletic competition, whether in men's basketball, women's basketball or wrestling has become an event that students and fans want to be a part of."
Keeping fans informed and entertained, the centerhung system totals nearly 900 square feet of digital display space with every display featuring a 5.9-millimeter pixel spacing.
The two sideline-facing video displays each measure roughly 11.5 feet high-by-21 feet wide and the two end-facing video displays each measure roughly 8 feet high-by=13 feet wide.
A lower ring display on the centerhung measures approximately 2.5 feet high-by-74 feet in circumference.
The four main video displays are capable of variable content zoning, which allows each display to show one large image or to be divided into multiple zones to share any combination of content including live video, instant replays, up-to-the-minute statistics, graphics and animations, and sponsorship messages. The lower ring display can provide supplement information, statistics, and graphics to support the main displays.
"Daktronics is proud to again partner with Drexel University on this game-changing renovation project at Dakalakis Athletic Center," said Scott Willson, sales representative at Daktronics. "We worked very closely with the Drexel team to design, manufacture and install a scoring, audio and video solution that really transformed the venue.
"The new centerhung and the multiple auxiliary LED displays are striking, the new sound system makes a huge impact on the energy levels in the arena, and Daktronics Show Control system allows the operators to pull everything together into a very professional and high energy show on game day."
Along the sides of the arena, two ribbon displays were mounted to the seating fascia. Each display measures approximately 2.5 feet high-by-33 feet wide.
Additionally ten court-side scorers tables were included with the project. Each LED scorers table measures 2.5 feet high and nearly 10 feet wide and can be used in any end-to-end configuration as needed by Drexel Athletics. These ribbons and scorers tables can show similar information and graphics as the lower ring display while also providing the opportunity to highlight sponsors throughout events.
Four auxiliary displays were also installed at the arena. Each measures more than 5.5 feet high-by-8 feet wide and can be used to share additional videos, graphics, animations, and messaging to help create an immersive live event experience for Drexel fans.
The new audio system is integrated into the video and scoring system to provide a complete audiovisual experience for fans. The system provides full-range sound reproduction and delivers clear and intelligible speech for a powerful overall audio experience.
In addition to the equipment installation, Drexel University will also receive a content package that will be produced and delivered by Daktronics Creative Services.
Daktronics has grown with the sports industry from the company's beginnings in 1968. Today, the company has LED video display installations at hundreds of colleges and universities across the United States.
—Press Release