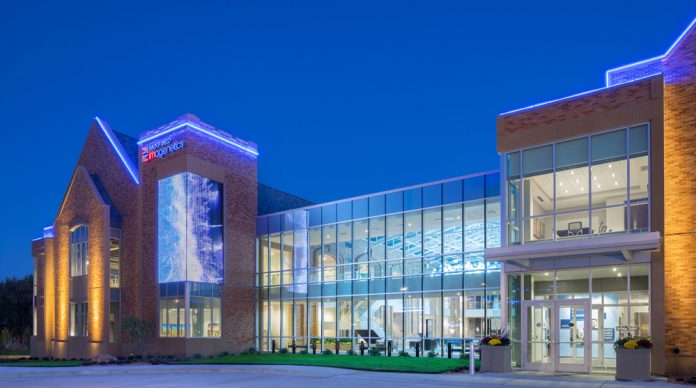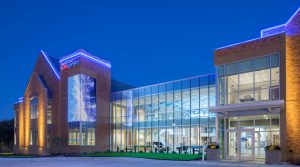 Daktronics of Brookings, South Dakota has installed a lightweight, freeform LED displays on the outside of Sanford Health's new Imagenetics building in Sioux Falls, South Dakota. The versatile LED technology brings an aesthetically pleasing design and artistic, genetic-centric content to the facility's exterior. The project was completed this summer ahead of the building's grand opening in early October.
"Sanford Health looked for a unique design element for the new Imagenetics building and ultimately incorporated Daktronics freeform LED product to the exterior of the building," said LeRoy Ask, construction project manager at Sanford Health. "This feature was the first of its kind in any Sanford Health facility and was as distinctive as the Imagenetics' process of health care delivery to our patients. The Daktronics team worked with us from initial concept to content development in order to make it a success."
The display wraps around the corner of the building at a 90-degree angle as it covers windows to a conference room and stairwell. It measures approximately 21 feet high by 18 feet wide – 9 feet wide on each side of the building. The display is created using stick shaped LED elements with 50-millimeter line spacing. The sticks are then spaced 25-millimeters apart to create the transparency which allows people inside the building to see outward through the display.
"Sanford Health was looking to do something different and unique that would stand out at their Imagenetics building, and we're excited that we were able to provide them with the solution they were looking for," said Matt Warnke, Daktronics sales representative. "This facility is focused on the future and the collaboration between genetics and primary care, so they wanted something to help match their image. This installation definitely does that for them."
The lightweight design is mounted directly to the windows with no extra materials for support. The design leverages the versatility of Daktronics freeform products that can be used in a variety of ways to create a digital canvas. This installation features a panelized frame for easy installation on site.
Daktronics Creative Services team produced digital content to bring the display to life. The content consists of relatable brand imagery signifying the purpose of the building and what's happening inside. Two notable animations include a fingerprint representing individuality of genetics and a DNA double helix indicating the research and genetic testing taking place inside the building.
"Sanford was looking for unique imagery to show the type of work being done at this location," said Ellen Sandager, Daktronics Creative Services account manager. "We worked closely with their team to understand the intent of their content. They weren't looking for advertising or logo animations. They wanted to visually represent the purpose of the building and the unique delivery of care happening inside."
Daktronics LED video and messaging display technology offers a long lifetime with consistent, industry-leading performance and low power consumption, providing value and excitement for years to come.