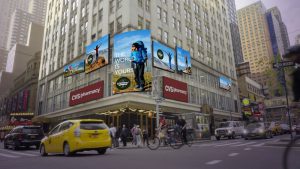 Property owner Brookfield and consultant Sensory Interactive have selected Daktronics of Brookings, South Dakota, to supply and install a system of large-scale exterior LED displays at the legendary Brill Building in New York's Times Square.
Sensory Interactive directed the procurement process for Brookfield and is also providing documentation and project management services.
Daktronics will install six new LED displays at the building, which is located at 1619 Broadway, between 49th and 50th Streets. The display program makes the most of this high-visibility address by placing signage elements on both sides of the building's corner location. Two displays will face 49th Street, three will face Broadway, and one large vertical display will be curved around the corner.
"By using multiple displays, this unique project will engage audiences from a variety of points within Times Square," said Steve Bayer, Daktronics special projects director. "We're excited to be working with Brookfield and Sensory Interactive to bring this project together in the coming months and look forward to it connecting with audiences for years to come."
The displays will have a total surface area of 1,265 square feet, and the largest – the curved display at the corner of 49th and Broadway – will be more than 26 feet high by 14 feet wide. All six displays will feature 10-millimeter line spacing and will include Daktronics' city louver for improved contrast in the Times Square environment.
The installation will also feature Daktronics' Venus Control Suite to provide an all-in-one, easy-to-use solution for display operation and content scheduling. The cloud-based solution can be easily accessed from anywhere to meet the differing needs of any display operator.
Daktronics and Sensory Interactive both have extensive experience in the Times Square market. Daktronics has been a staple LED display provider in Times Square dating back to the installation of the Morgan Stanley LED ticker in 1995. The company has more than 80 customers in the area and nearly 40 projects in Times Square. For more on Daktronics' involvement in Times Square, visit www.daktronics.com/timessquare.
Sensory Interactive has served as the guiding force on some of Times Square's most spectacular digital media installations. On projects throughout the district, the company has provided planning, design, project management, content development and operational services, as well as offering revenue strategy consulting and media sales brokerage services for property owners.