By Ashley Bray
Sign shops have plenty to offer when it comes to selling and implementing digital signage for their clients, but where their skills truly shine is in the permitting, fabricating of custom elements, and installing the digital signage.
"Sign companies are a point of connection/leverage between manufacturers and end customers as well as important sources of installation," says Taylor Nilson, market manager, On-Premise – Commercial Reseller & National Accounts, for Daktronics. "They also play a critical role of communicating knowledge of local sign jurisdictions to the manufacturers."
First Thing's First: Sign Permitting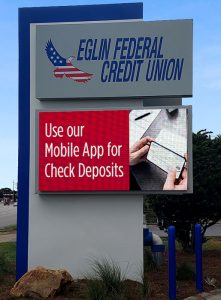 That local sign jurisdiction knowledge is the first step in the install process where sign shops' expertise is paramount. A digital sign manufacturer can't know the rules in every individual county or town across the country. "They have an understanding of the signage codes within their jurisdiction, so being able to get permits and understand what the rules mean," says Nilson. "What kinds of limitations are the city council going to put on animations or moving text and things like that—there's no way for us as a manufacturer to understand that at all these locations, so they have a critical role to play in that regard.
"And it's symbiotic—we can provide legislative support. If there's a sign company out there that's dealing with overly oppressive signage legislation, we have a legislative branch within our company that can figuratively fly in and help that sign company understand and maybe even help with some presentations to that city or county board. We talk about what other counties are doing successfully to keep signage reasonable but also supportive of the business climate in the area."
Stuart Stein, president of ESCO Manufacturing, agrees on the importance of permitting knowledge. "There are so many wide ranging sign codes that vary from community to community," he says. "All of those are things that have to be researched ahead of time with the end customer so that they fully understand what their options are."
Getting Creative: Custom Fabrication
Once it's determined that a digital sign is actually allowed and the restrictions and parameters it must meet are laid out, it is up to a sign company to make the client's vision a reality.
Because manufacturers fabricate the digital display boards, some shops may think there isn't much fabrication to do other than mounting provisions. However, this is where the creativity of sign shops can shine. Rather than just a display on a pole or a base, sign shops can make the signs really stand out through custom cabinetry and other fabricated elements. "Many times, [it's about] incorporating a structure around it, so it's just not a square box on a pole or in-between a pylon sign," says John Danio, vice president of Sales and Marketing for Indigo Signs with locations across the midwest.
Justin Holland, co-founder and vp of sales and marketing for Complete Signs, agrees, "We hate selling signs that look like everybody else's signs, so we try to design some creative and unique signs."
Header cabinets featuring the client's name with illumination are typically elements that are custom fabricated for digital displays. However, Steve Clark, director of Sales at KC Sign & Awnings in Aston, Pennsylvania, cautions shops about the depths of these cabinets. "My biggest pet peeve on install that I see is they either buy or don't make that top cabinet to match the depth of the LED display and then they go and just put a ten inch deep cabinet on top of a 20- to 24-inch deep LED display," he says. "One, it looks awful, but two, they're going to cause themselves headaches because all of that snow and rain goes off the top cabinet and now it just sits on the top of the display. We custom build our top cabinets to stick out a half inch further than the LED display's so the rain or snow doesn't touch it unless it hits it directly."
Like with other types of signage, sign shops have the option of handling the fabrication entirely themselves or outsourcing parts of it to other companies and wholesalers. As a wholesaler, ESCO says they work closely with sign shops to help design the best solution. "The key part where we come into play is definitely in the mounting provision of setting the sign so it can be installed [in the way] the end customer wants it, and talking about any other alternative design that may accomplish the same thing but may be more feasible or economical for both the sign company and the end customer," says Stein. "We sometimes manufacture the sign cabinets or the mounting provisions or the bracing, and then ship that directly to the sign company and then they will actually take the digital display and install it on our mounting provisions, our sign cabinet, and then install it in the field."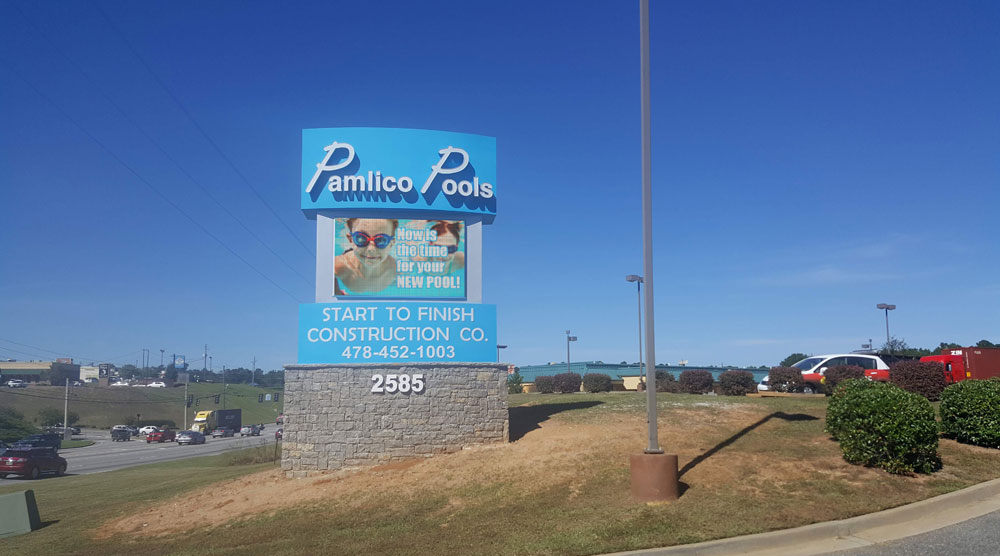 Many sign shops opt to handle fabrication and installation themselves. Nilson says sign shops are critical in translating the ideas of a customer unfamiliar with signage into something that is possible. "I have a lot of respect for what sign shops do in that regard because they are talking to a business owner that maybe is in a line of business that's so wildly different from signage. And the business owner knows what they are trying to accomplish, but they don't know how to describe what they want," says Nilson. "So the sign company has to interpret that and understand the outcome that the business is trying to create. Then they turn that vision into a reality. And I think that's critical regardless of what signage you're working on."
Sign shops are also highly capable of steering customers to the perfect pixel pitch or resolution. Stein says sign shops frequently compute a sign's copy size based on parameters like viewing distance and the speed of drivers going by. All of these same parameters apply to the pixel pitch of a digital sign.
This is also why demos of a digital sign, preferably in the place it will be installed, are critical to making sure end users understand what they are getting. "It allows the end customer to fully grasp what they're going to be purchasing with no surprises," says Stein. "Being able to see the product first hand, live in action is such a critical part of the process."
Putting it in Place: Installation
When it comes to installing the digital display, each manufacturer will have different requirements for air flow, grounding, etc. To ensure these different requirements are covered, Mike Lewis, CEO of Sign Store Macon in Macon, Georgia, says digital sign manufacturers/suppliers typically give sign shops a check list of installation requirements. "If you can install a lighted sign cabinet or channel letters that have power, it's no different," says Lewis, who notes the manufacturers' checklist will explain things like how to weld the sign to a pole, how to ensure air flow and circulation, the need for a grounding rod and where to put it, etc. "There's a lot of things you have to do when you install them, but they'll usually give you a cheat sheet or an itemized checklist, and if you do that, then you should be fine."
Nilson says manufacturers have also helped to make the installation of outdoor digital displays in particular easier. "You've got power, you've got the display, and then you've got a cellular modem that sits on the display, and we've removed a lot of the technological impediments to getting that stuff installed. Because there's no ethernet bridge radios around anymore, we don't have to deal with customers' firewalls anymore," he explains, noting that for a while, sign companies had to be IT professionals, which is no longer the case. "If there are sign companies out there still using ethernet bridge radios and struggling through that part of the process, I really encourage them to come talk to us about how much simpler cellular can make their installs."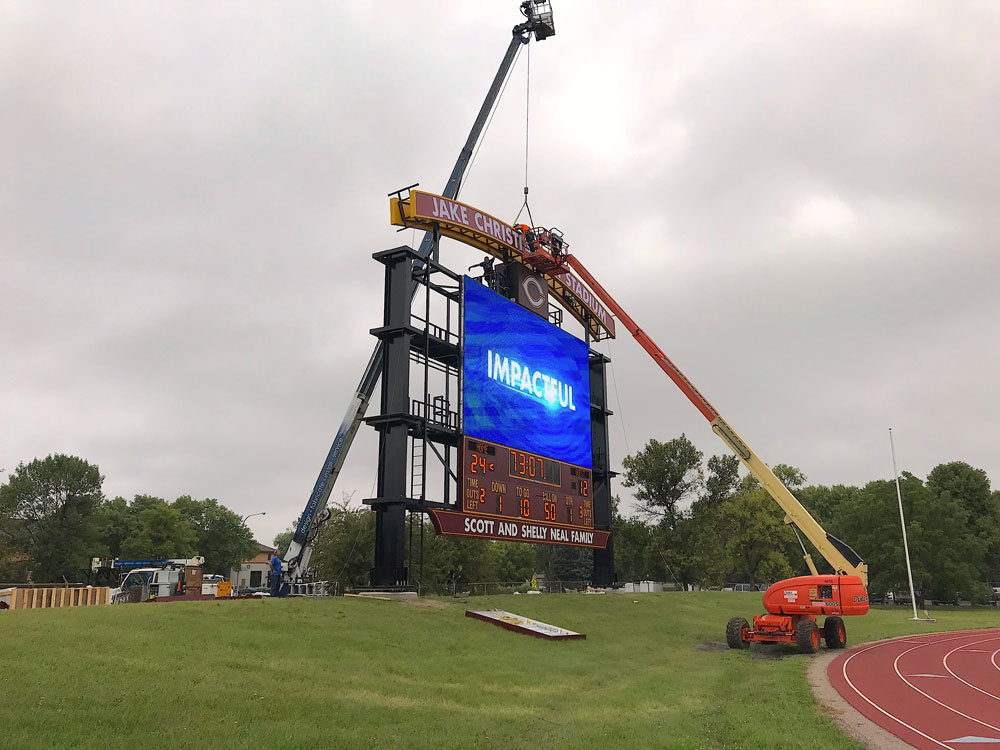 Holland also encourages sign shops to find a manufacturer who will serve as a partner and walk them through the installation process. "If it's not going to just be something you install once every five years, if it's going to be something that's more regular, it's worth investing in the training. Any of these manufacturers will fly you in, you and your team, and they'll take you through a little two-day shop training class in their factory and show you everything," says Holland. "It's worth getting comfortable working with cellular modems and IP addresses, and it's worth knowing how to use software, how to change the power supply, and all that."