By Ashley Bray
CNS Signs is a full-service sign company located in El Centro, California. Established in 2006, the sign shop provides high-quality sign design, manufacturing, installation, and repair services. It offers everything from channel letters to monument signs to vinyl graphics to digital signs.
Digital signage is a fairly new market for the sign company as it started offering it only about five years ago thanks to a partnership with Vantage LED.
CNS Signs Owner Carlos Vera believes digital signage is an important market for sign companies to be in as he's seen a lot of interest in it. When selling digital, he says sign shops need to first make sure they actually mention to customers that they sell it. Second, they need to go over the value of the signage to reduce sticker shock. "Suggest to customers that for the digitals, they're going to spend a little money at the beginning, but in the end, they're going to get a lot of customers, and that's the main thing," says Vera.
A recent client of CNS Signs was the Golden Acorn Casino located in Campo, California.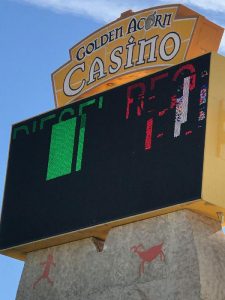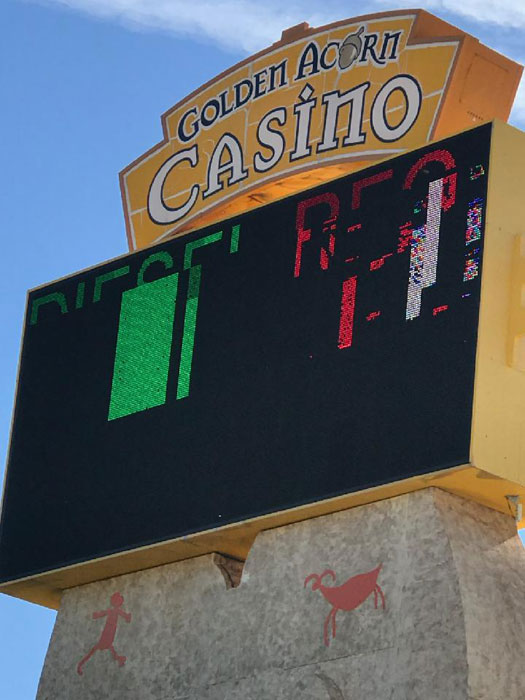 Featuring a casino floor, a bevy of dining options, and a fuel and travel center, Golden Acorn Casino is an entertainment destination.
But when the Casino's large digital sign overlooking California's famous Interstate 8 went dark, it was in need of an upgrade.
CNS Signs was already providing vinyl graphics and working on the canopies around the gas station for the Casino, so they provided them with an estimate for a new digital sign from Vantage LED that the Casino accepted.
From there, CNS Signs did a site survey on the existing digital signage to ensure everything would fit up properly. "We did all the surveys, and all the measurements, and they sent me back a drawing of what was going to be installed," explains Vera.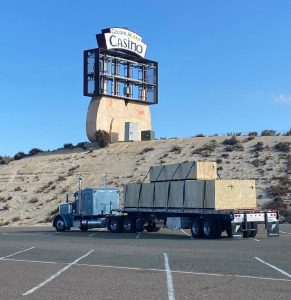 After confirming that everything was correct on the drawing, CNS Signs was ready for the install. Using a large crane truck and a few bucket trucks, they first removed the old digital display. They then installed the new display to the existing stone monument structure using a combination of welding and bolts.
"Every install is different, and yes we had a few little problems, but nothing that was too difficult," says Vera. "The install took us about a little over a week. It was up on a hill, which is not a problem, but carrying the digital all the way up there and everything took us a little over a week.
"Plus, the wind blows harder out there. But everything worked out good in the end."
Even with 15 years under its belt, CNS Signs emphasizes that the company is staying open to new opportunities and technologies like digital signage. "We're still learning and still growing," says Vera.