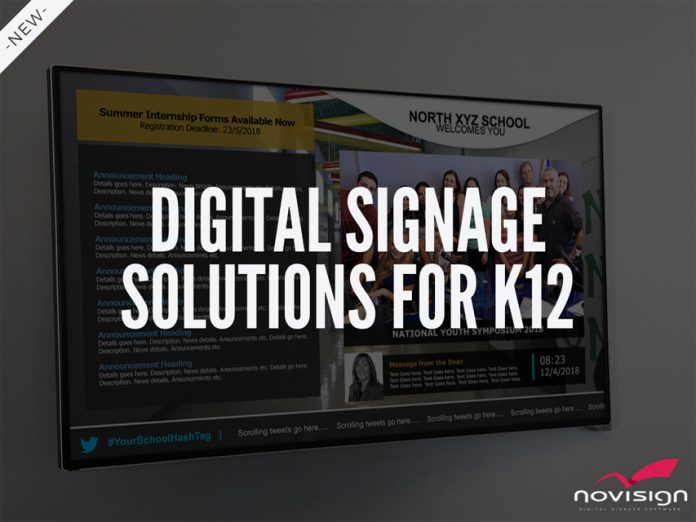 NoviSign Digital Signage announced today the immediate availability of specially designed cloud-based digital signage software for schools that allows users of any background to easily and remotely create, update and manage the content being displayed across any number of TVs, kiosks, or commercial-grade digital signs. The software can be installed on any Chrome, Android, or Windows device.
"NoviSign is exactly what we needed in our High School to display the news, videos, weather updates, slides and other information that we needed to put out to students," said Adrian Ramos, a teacher at EL Teacher at Eisenhower High School. "NoviSign's product is awesome and very easy-to-use. I had a few questions when setting up some of my templates and was able to get assistance immediately. I had NoviSign up and running within fifteen minutes."
How Does It Work?
Using the NoviSign's online design studio from any computer at any time users can set up and send information to any screen. Send daily announcements, image slideshows, HD videos, welcome messages and more. Start a design from scratch or customize one of the templates. All of the changes you make on your computer can be wirelessly sent to the screen within minutes!
Additional features of NoviSign Digital Signage Software include:
Over 20+ drag-and-drop media widgets
Add Instagram, Facebook, Twitter, and Yammer feeds
Incorporate YouTube and Ustream live videos
List real-time RSS feeds scrolling tickers and weather forecasts
Drive student engagement with Interactive polls and games
Sync your Google Slides with the screen for instant updates
Share media slideshows, videos, and HD videos
Cloud media library for storing your media
Advanced Scheduling and Monitoring Dashboard
Using the advanced playlists module, users can create and schedule playlists to play on recurring schedules, expiration dates and one-time. Once deployed the content can be remotely monitored using the reports dashboard. Proof-of-play reports, playlist download times, and player status can all be viewed in the reports dashboard.
Only takes minutes for screens to update
Almost all content caches locally on player
Drag-and-drop action for playlist creation
Schedule to auto-play by day and time
Set play duration and expirations
Preview your playlists before updating
To learn more about NoviSign digital signage software, visit www.novisign.com.