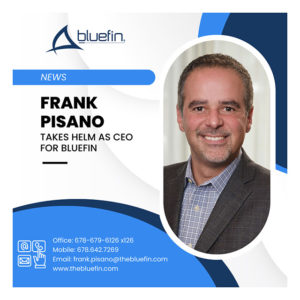 Bluefin International, an innovative leader in digital signage solutions, has hired long-time industry veteran Frank Pisano as CEO. Pisano is an experienced leader in the audio-visual, digital signage, and technology infrastructure industries and brings twenty-plus years of client leadership, strategic sales, operational know-how, and revenue performance to the Bluefin team.
Tasked with leading the company into a new era, Pisano will advance the strategic positioning and differentiation of the company, so its competitive edge is razor sharp.
Bluefin is known for its customizable solutions for signage and digital communications, and Pisano will prioritize ensuing the offering is more accessible to new markets/verticals, new channels, and offer a fresh take on partner strategy.
"I'm thrilled to lead Bluefin to the next level with a go to market strategy that includes engineering innovation and unleashing key insights that will make our brand a superpower that generates demand with end-users and partners alike" says Bluefin CEO Frank Pisano.
"The Bluefin team has gained a champion whose energy and vision is contagious," says Bluefin Owner Randy Guy. "I've admired Frank's drive, cultural impact, and team-forward approach and know his determination and abilities will propel Bluefin to a new level.
"We are ecstatic to have him on our team and look forward to all the great things 2023 has in store for our organization."
Headquartered in Atlanta, Bluefin has worked with hundreds of partners and brands to create custom digital signage solutions for retail, restaurants, and corporate branding around the globe.
—Press Release