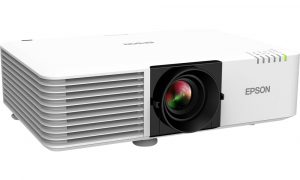 As markets continue to open up, schools and businesses are looking for advanced display solutions that make an impact. Epson, the number-one selling projector brand worldwide,1  announced it is shipping eight new PowerLite® laser projector models that deliver bright, powerful displays – the L520W, L520U, L530U, L630U, L730U, L735U, L630SU, and L635SU. Ranging from 5,200 to 7,000 lumens of equal color and white brightness,2 the new PowerLite projectors offer convenient creative tools and easy installation. From classrooms and meeting spaces to signage and entertainment applications, the new models captivate audiences and empower laser-focused learning.
"Building on the success of Epson's existing PowerLite lineup, the new models bring next-generation display technology to end users, enabling them to wow audiences and make an impression, no matter the environment or installation," said Mark Roslon, director, product marketing, Epson America, Inc. "These compact projectors combine impressive visuals with helpful installation tools and connectivity options, making them ideal display solutions for a variety of presentation and signage needs."
The new PowerLite models feature a minimalist, discreet design with black and white color options to fit seamlessly into virtually any environment. Delivering ultra-bright, colorful images with simplified installation and a virtually maintenance-free 20,000-hour laser light source,3 the projectors offer reliable operation and impactful projection without being bound by a frame.
For Education and Corporate Environments
Providing bright, easy-to-read displays for meetings, lectures and more, the PowerLite L520W, L520U, L530U, L630U, and L730U offer powerful performance, flexible placement and exceptional image quality. Different from other classroom or corporate display technology, the PowerLite models can deliver images up to 500 inches with 16:10 or ultra-wide 16:6 displays for optimal visibility from anywhere in a room, or while tuning in virtually. The new models also come equipped with versatile connectivity options and easy installation tools, including lens shift, HDBaseT and 360-degree placement flexibility, along with 5GHz enterprise-level wireless, upgraded Miracast® and screen sharing for enhanced collaboration.
For Signage, Corporate, Higher Education, and Entertainment
Combining advanced installation features with high-performance laser projection, the long-throw PowerLite L730U and L735U and short-throw PowerLite L630SU and L635SU deliver bright, beautiful images for nearly any application – big or small. From visual merchandising and wayfinding to corporate spaces and entertainment, the new signage models deliver eye-catching graphics that drive engagement. Built to enhance creativity and operational efficiency, the projectors come with advanced built-in features, including 5GHZ enterprise-level wireless, HDBaseT, edge blending, and a content creation app.4 The new displays also include an array of connectivity options, energy-saving features and a suite of software tools that enable content management and remote control and monitoring of the projectors.
Additional Product Details & Availability
The PowerLite L520W, L520U, L530U, L630U, L730U, L735U, L630SU, and L635SU can be purchased through national resellers, pro audio/visual dealers, mail order, distribution, Epson.com, and the Brighter Futures® program*.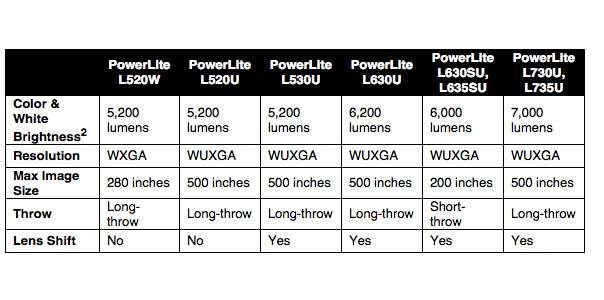 Epson's Brighter Futures program is a unique sales and support initiative available specifically for schools. Designed to help educators and administrators select and implement the best products for classrooms while making the most of budgets, Brighter Futures offers special pricing, dedicated education account managers and toll-free technical support for all Epson projectors and associated accessories. Under the CARES Act, Epson projectors qualify for funding included in the package's K-12 relief fund,5 making them a smart and affordable choice for hybrid classrooms.
Epson recently added an expanded 5-Year Limited Warranty6 on select laser projectors to its list of special discounts and benefits included in the Brighter Futures program that can help reduce the overall cost of ownership and make it easier for schools to put state-of-the-art visual displays in every classroom. Education customers and integrators can register products to take advantage of the extended warranty and receive fast tech support. A convenient tool for bulk-registration is available here, www.epson.com/mdr/fleet-register.
*Select models will be available in the coming weeks.
1 Epson is the #1 projector brand worldwide and in the U.S. according to most recent quarterly data from PMA, a leading high-tech market research and publishing firm specializing in the display market.
2 Color brightness (color light output) and white brightness (white light output) will vary depending on usage conditions. Color light output measured in accordance with IDMS 15.4; white light output measured in accordance with ISO 21118.
3 No required maintenance for the light source for up to 20,000 hours. Approximate time until brightness decreases 50% from first usage. Measured by acceleration test assuming use of 0.04 – 0.20 mg/m3 of particulate matter. Time varies depending on usage conditions and environment. Replacement of parts other than the light source may be required in a shorter period.
4 Internet connection required for download. Data usage fee may apply.
5 www.future-ed.org/what-congressional-covid-funding-means-for-k-12-schools
6 5-year limited warranty on laser models with registration, not available with interchangeable lens models. 3-year limited warranty on interchangeable lens laser models and non-laser models (90 day limited warranty on lamps)