Florida State University's athletic program retrofitted video scoreboards for the Seminole Soccer Complex and Joanne Graf Field at the Seminole Softball Complex with EMPIRE™ Exterior LED display technology from SNA Displays. The two venues are located on the west side of FSU's campus, just north of Dick Howser Stadium and Doak S. Campbell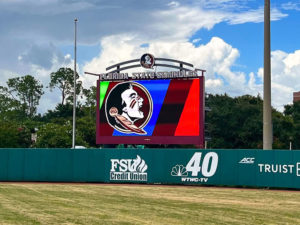 Stadium.
Owner-representative Anthony James Partners provided consulting services throughout the project.
Defending NCAA national champions – and champions in three of the last seven seasons – the university's women's soccer program plays its home games at Seminole Soccer Complex. The venue's new video scoreboard, located in the southwest corner of the complex, is 16'6″ tall and 31'6″ wide and features 10-milimeter pixel spacing. Trimmed out in the Seminoles garnet and gold and branded channel lettering, the screen boasts a resolution of 504 x 960 pixels.
The No. 1-ranked Seminoles host their first 2022 soccer home game Aug. 25 vs Auburn.
Joanne Graf Field at the Seminole Softball Complex now features a 13'5″ by 26'3″ (408 x 800 pixels) video scoreboard just outside the center-right field fence. The new display also employs 10 mm pixel spacing and is trimmed out in Seminole colors and channel graphics.
The FSU softball team, which finished last season at No. 5 in the NCAA, will open its 2023 season in February.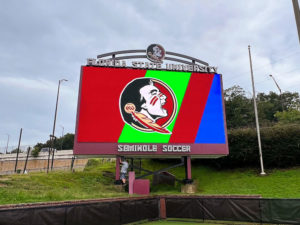 Both new video scoreboards include remote power lighting control panelboards (LCP) by LynTec, a manufacturer of innovative power control solutions. This allows for independent, efficient supply of power to each scoreboard's video, logo, and channel letter components.
Mad Dog Construction provided general contractor services for the project, and Eastern Sign Tech installed the new video scoreboards.
For more information, visit SNA Displays' portfolio pages about the Seminole Soccer Complex and JoAnne Graf Field.