The Fremont Street Experience in Las Vegas attracts more than 23 million visitors annually and is adjacent to 10 casinos and more than 60 restaurants. On New Year's Eve, attendees at a ticketed event witnessed first-hand the grand reveal of the full visual capability of a brand-new canopy replacement at this location. The first update for the landmark canopy in fourteen years, this result of this $30 million renovation is the world's largest single video screen, and the company that completed this project on budget and ahead of schedule was digital sign manufacturer Watchfire Signs of Danville, Illinois.
The new digital canopy that covers the Fremont Street Experience measures 1,500 feet long, features a 97-foot arc length, and is suspended 90 feet above a pedestrian mall. The scale of this project for Watchfire Signs involved manufacturing and shipping 130,000 square feet of digital signage to Las Vegas. The canopy was manufactured using more than 67,000 modules containing 49 million LEDs.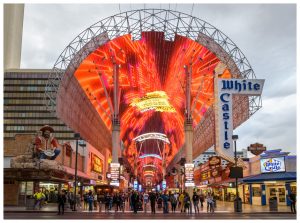 The sign was built in 68-by-280-inch sections called subframe assemblies. Sixty-four modules make up each subframe assembly with the full display consisting of 1,054 subframe assemblies.
Since each subframe was manufactured to be installed at a specific spot on the canopy, Watchfire created a special crating and labeling system that arranged frames in a precise order within the shipping crates, making identification on the job site easy for the sign installers hired for this project, Federal Heath. Each of the assemblies was installed over the course of eight phases, allowing Fremont Street to remain open during the upgrade.
Steve Harriott, president and CEO of Watchfire Signs, indicates one key component of this project was visiting the site early on and completing a digital mapping of it. "Since there were no as-built drawings for the 130,000-square-foot canopy, we used the mapping to help us better understand the layout of the canopy and how sections would be delivered to the site," he says. "So we knew where every 5-by-20 subframe was going as it went out that day, which made it easier for the install crew on the job site."
Watchfire Signs developed a Theory of Installation for this project—basically showing how the products were going to be designed, connected, and installed—that they shared with the Federal Heath installation team during numerous early-on planning meetings. "We realized there was more we could be doing at our factory, as opposed to out at Fremont Street," says Harriott. "It's neither rainy nor windy here inside our Watchfire factory, so we knew that the more wiring and preparation we could do here, the better off everyone would be."
For this project, Watchfire Signs ended up designing an all-new trimmable product that allowed the modules to be cut to fit the existing structure shape without impacting the information displayed on them. This breakthrough allows the screen to be interrupted by structural components. "We wanted the ability to actually trim back the screen without interrupting the image beyond just what that structural piece takes out," says Harriott. "So the LED panel itself can be trimmed back to allow it to accommodate that."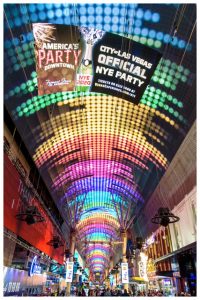 Perforations in each module also let daylight filter through and air circulate, critical for dispersing heat in extreme desert conditions and illuminating the street below. "Fremont Street didn't want it to be like a cave-like atmosphere underneath the canopy," says Harriott. "They wanted to make sure that rain could shed off it. The advantage is that you're usually not looking straight up at the canopy but instead up at an angle at some point a little bit in front of you. Because you're kind of cut off because of the viewing angle, you don't actually see the light coming through the holes."
The new Watchfire digital canopy is seven times brighter and four times sharper than the original, making the light show on it vivid even during daylight hours. Even so, Watchfire still even adjusted the brightness for its product down normally so it wouldn't be overwhelming to the naked eye at night.
High-contrast materials (using black for the sign face instead of the traditional white) and the innovative light trapping design combine to make it possible to run content on the canopy during the day—something that was impossible with the old design. "It's able to compete against sunlight," says Harriott, noting the sun can be the bane of many LED displays during daytime hours. "We also ended up with richer colors for it."
Watchfire Signs was awarded the contract in July 2018 (after first responding to the RFP with a bid in July 2016). Fremont Street executives had a very tight specification on what they wanted, and Harriott credits them for giving Watchfire Signs lots of access to the job site before submitting their RFP bid. "That put us in a strong position to figure out how to build the product," he says. "By being able to see the job site, we were able to make accommodations within that custom product design to help set us apart."
The company began production in November 2018, and it was full speed ahead. Watchfire ended up manufacturing the product until the final shipment went out the door in late October for the final installation in mid-November.
Harriott notes that nearly every one of his employees was involved in some way on this innovative project over two-plus years. "We are a team of innovators, combining new design with in-field excellence in service. This was an all-hands-on-deck project for Watchfire, and nearly every employee was involved in some way," said Harriott. "We didn't focus solely on manufacturing. I know Fremont Street officials were impressed by how much detail we went into thinking through how the product would also be installed and not just how we would manufacture it and how it would perform."
The Watchfire production facility added optional overtime shifts to accommodate production, enabling experienced Watchfire staff to build the project without the need to hire and train temporary workers. In fact, the entire project was completed without impacting the company's existing sign industry customers. "We were adamant that we didn't want to leave any of our long-time customers in the lurch while working on this massive project," says Harriott.
The installation was performed in chunks of 1/8, yet the canopy was never turned off for the six months of installation. Since the Fremont Street Experience is a massive tourist draw, the old panels continued to run while the new panels were being installed. Federal Heath would dismantle and remove the sign for recycling, and the new sign would be going up. "They were separated by a section that was under construction so they weren't perfectly married up," says Harriott.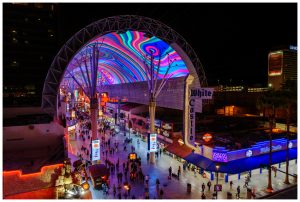 Crews were installing at the end of every day—from two in the morning until ten in the morning. "During that eight-hour window, the streets were quiet, so the installers could cordon it off and do their work," says Harriott. "But then installers had to clean everything up and be out so they could open the streets back up for the businesses. It's a complicated situation from a construction standpoint to have the general public walking through your job site underneath your recently completed work every day and was a bit challenging."
For Harriott, this project was a terrific way for Watchfire Signs to end 2019. "We're thrilled to have participated in creating the largest LED sign in the world," he says. "There's a lot of pride in a company like ours based in the Midwest to compete against firms all over the world and win this job. We were excited to deliver a product that the customer is thrilled with and that everyone who visits the site will be thrilled with."