With nearly 4,000 branches located inside grocery and other retail stores in the U.S., banks and credit unions have a unique opportunity to provide customers and members with convenient, on-the-go access to their finances and banking experts to give them valuable advice.
Given the consistent flow of consumers, the environment is rich with opportunity to create new relationships and reaffirm existing ones by providing financial services at the point-of-need. But beyond simply using the real estate footprint and static signage or wayfinding signage to highlight the availability of banking nearby, innovative institutions go further by using digital signage to their best advantage.
For these express service-oriented branches, digital signage provides a powerful engagement tool for attracting potential customer attention and delivering promotional and educational messages to the constant stream of grocery store patrons. However, some bank marketers miss the mark in attracting new customers because they fail to take a few necessary steps to customize their messaging for this unique environment. Despite the in-store branch's inherent distractions and mix of customers and non-customers, bank marketers routinely apply the same digital messaging strategy used in their more prototypical bank branches.
By not customizing messages to the environment and the shopper, banks undermine the power of their digital signage platform and miss out on opportunities the in-store environment is primed to provide.
This is where your sign shop comes in. Teach your bank customers how to get the most out of their digital sign content by tailoring their message strategy to the customer personas present in the store and considering the specific characteristics of the environment in developing their messaging. Having a well thought out communication strategy for in-store branches is mission critical as competition for customers rises all around. So what are some of these best practices to teach your clients?
1. Know the Environment
Successful messaging for in-store branches should first consider the characteristics of the grocery retail environment, such as traffic patterns, customer demographics, and in-store behaviors. For example, digital signage screens at a grocery store branch are viewed by shoppers passing through the checkout lanes, most of whom are likely not already a bank customer. That means transaction zone messaging that works well for customers in line at a bank branch where the viewer is an existing account holder will likely not translate well in the grocery store environment.
2. Market to the Environment
Given this reality, we advise our bank and credit union clients to apply a brand promotion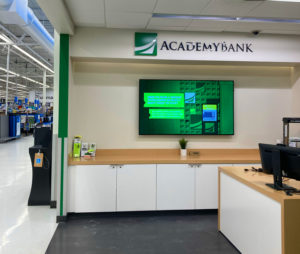 message strategy coupled with products that drive new customer relationships – like new checking and savings accounts. Further, we recommend messages that highlight banking products that easily co-exist with a prospect's current primary banking provider – like credit cards, mortgage loans, and home equity lines of credit. Credit card usage is also top of mind for grocery shoppers as they approach the bank branch, having just used their card at the checkout. So, overarching messaging should prioritize card promotions over less-relevant topics, like retirement planning.
3. Placement and Readability
Lastly, marketers must understand that the grocery store is a noisy, visually cluttered environment, so clear, focused messaging that can be easily read and digested is critical.
Proximity and position of digital message screens relative to the store traffic and shopper activity must be a major consideration. Can shoppers plainly view the digital screen while standing at the checkout or will they most likely see the screen on their path into or out of the store?
Even more, the typical viewing distance between customer and digital screen is quite different than in a traditional branch, so visuals must be appropriately designed and scaled to optimize viewer readability. Taken together, these best practices will help ensure effectiveness of this powerful medium.
Jerry Reese is Group Account Director at Adrenaline

,

an end-to-end brand experience company serving the financial industry. He is an expert at crafting a successful programming strategy for digital signage that maximizes engagement and provides consumer value.