Global water solutions company Kurita America recently incorporated a decorative LED display into the lobby of its new headquarters in Minneapolis Minnesota. The industrial water management company, which provides customized, environmentally friendly, and cost-effective water treatment solutions, joins a growing number of businesses integrating LED video wall technology in their lobbies to enhance visitor and employee experience.
Kurita America hired The Vomela Companies to oversee procurement and management of the technology update. After careful consideration, Vomela selected a 2.5 mm LED screen from SNA Displays' BOLD™ line of interior display products to meet Kurita's needs and overall aesthetic.
The wall-mounted, direct-view LED screen, which features custom media players and content from Fusion CI Studios, serves as an artistic centerpiece. The 7-by-20-foot (900 pixels high-by-2,400 wide) digital display covers 145 square feet of wall space and has almost 2.2 million total pixels.
"Kurita joins the growing number of lobby LED projects we have provided," said Mikell Senger, project manager at SNA Displays. "Fusion CIS recommended a tight-pitch video wall, and the dynamic digital content Fusion is known for really makes the display stand out."
In addition to manufacturing the screen, SNA Displays oversaw installation and provided project management while California-based AV installer Digital Dreams performed numerous services, including installing subframes, diecasts, and panels; mounting the cabinets; connecting the media player; and running power and data connections.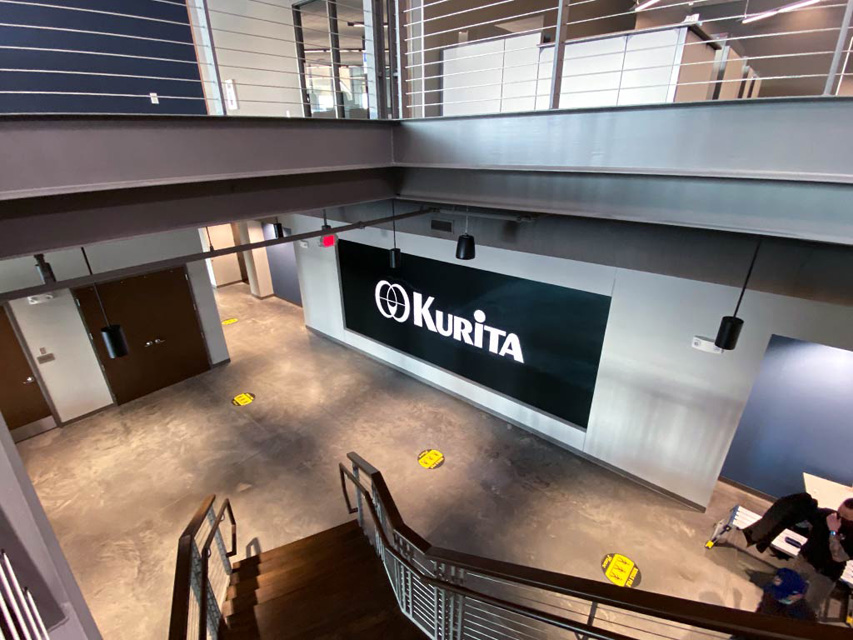 About The Vomela Companies
The Vomela Companies are a national network of graphic design and large format printing specialists creating brand awareness and experiential immersion through promotional, store décor, event, and transportation visual solutions.
About SNA Displays
SNA Displays brings creative visions to life by building high-end digital displays as vivid and dynamic as the imagination. SNA Displays employs a team of SNAPros™—engineers, skilled project managers, systems experts, installation managers, and support staff—whose mission is total project satisfaction.
SNA Displays is headquartered in Times Square and has worked with clients to design and build some of the largest and most recognizable digital spectaculars in the world.
About Fusion CI Studios
Fusion CI Studios integrates art, engineering, and advanced visual effects technologies to create mind-bending, immersive sensory experiences. Their iconic visual effects can be found on LED video walls, film and TV, and other commercial and special projects.
About Digital Dreams
Digital Dreams is an audio-video integrator that specializes in installing direct-view LED, data cables, thermal detection, video conferencing rooms, security systems, and other technology systems.
—Press Release